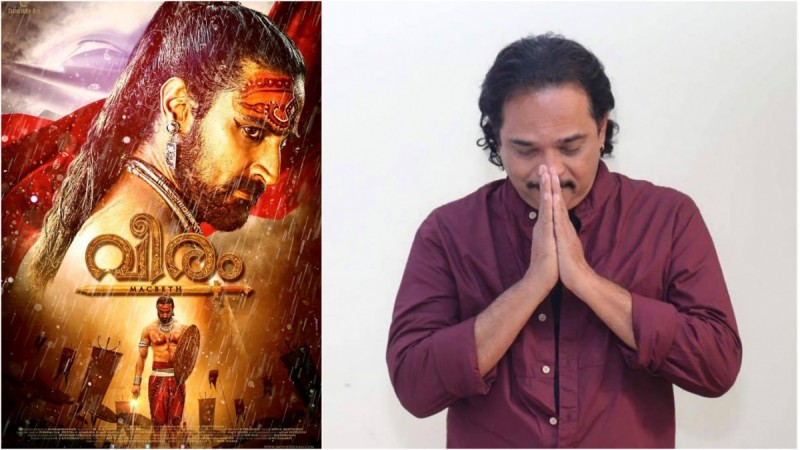 Malayalam director Jayaraj is awaiting the release of his multi-lingual period drama Veeram, but the filmmaker has been mired in controversy recently after making a statement on Mohanlal's latest movie Pulimurugan.
On the day the teaser of Veeram was released online, during a programme telecast on Manorama News, Jayaraj stated that it is the technical aspects that make big-budget movies like Pulimurugan successful. "There have been many flops delivered by this actor (Mohanlal). Then why is this movie (Pulimurugan) getting a lot of attention? It is definitely because of its technical quality attracting the audience to the theatre to watch a movie that made Rs 10 crore within a week [translated from Malayalam]," Jayaraj says.
However, this has irked the fans of the superstar, who started attacking the filmmaker for making such comments against the actor. Following the social media attack, Jayaraj has now come forward with an explanation apologising for his words.
Veeram screened at BRICS Film Festival
"Not just in Malayalam, but Bharath Mohanlal is a brilliant actor in the world cinema. His acting skills and dedication are evident in the recent movie Pulimurugan. With my recent statement, I only tried to mention that the technical brilliance in the action thriller as the reason for the "initial pull". I regret if it has hurt Mohanlal or any of his fans all over the world [translated from Malayalam]," Jayaraj posts on his Facebook page along with a picture of him with bowed head and folded arms. However, few netizens suspect the director's apology as his sarcastic response on the matter.
Meanwhile, Jayaraj believes that Veeram, made on a budget of Rs 35 crore, starring Kunal Kapoor in the lead, will be the first Malayalam movie that collects Rs 100 crore. The makers have spent at least Rs 20 crore for the graphic works alone in it, while Hollywood stunt coordinator Allan Poppleton has choreographed the action sequences in the period drama. Veeram, which is made in Malayalam, Hindi and English, stars Divinaa Thackur in the female lead role and has been scheduled to hit the screens in November.
Read Jayaraj's Facebook post here:
Watch the teaser of Veeram here: