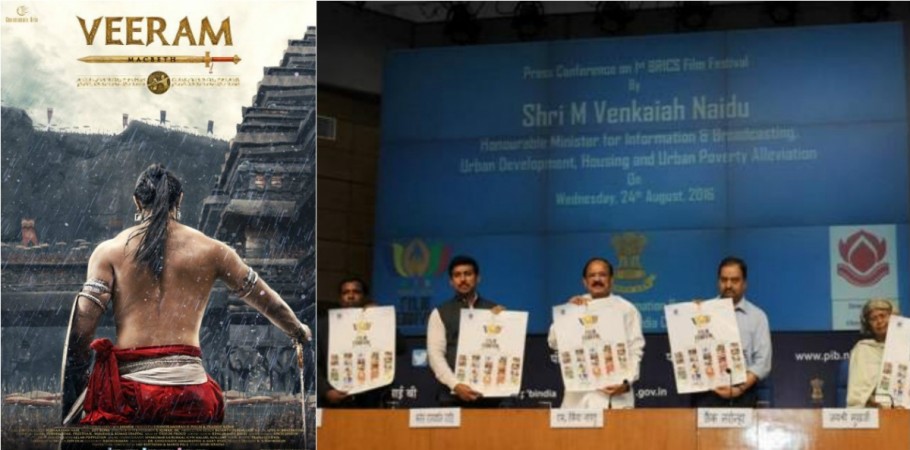 Malayalam film "Veeram" has been selected as the opening film for the upcoming 5-day BRICS festival. The movie, which stars Kunal Kapoor in the lead role, was made by National Award-winning director Jayaraj Rajasekharan Nair in two languages, the other version being in Hindi.
"Veeram," which portrays the greed for power and the extent to which a person goes to attain it, will be premiered on the occasion. The first-look poster of the movie, which is a transcreation of Shakespeare's "Macbeth," had received positive response from movie aficionados.
Jackie Chan's Chinese action-comedy entertainer "Skiptrace," directed by Renny Harlin, has been selected as the closing film of the festival. The film revolves around a Chinese detective who teams up with an American gambler in order to catch a Chinese criminal.
The BRICS (Brazil, Russia, India, China and South Africa) Film Festival is scheduled to take place at the Sirifort Auditorium Complex in New Delhi from Sept. 2-6. Apart from screening films, the festival will also include performances by China's Chengdu Performing Arts Theatre, Theatre Leningrad Centre Dreams of Russia and MBZ Music Production of South Africa. The event also has a competition section for movies, in which a total of 20 films will be screened, four from each country.
The official poster for the film festival was unveiled by Venkaiah Naidu, the Minister of Information and Broadcasting, in New Delhi on Wednesday, Aug. 24.
The films in the competition section from all the 5 participating countries are listed below:
| | | | | |
| --- | --- | --- | --- | --- |
| Brazil | Russia | India | China | South Africa |
| Between ValleysDirector: Philippe Barcinski | 14+Director: Andrei Zaitsev | Baahubali- the BeginningDirector: S.S. Rajamouli | Book of LoveDirector: Xiaolu Xue | Free StateDirector: Sallas De Jager |
| Road 47Director: Vincente Ferraz | About LoveDirector: Anna Melikyan | Bajirao MastaniDirector: Sanjay Leela Bhansali | Go Away Mr. TumorDirector: Han Yan | KalushiDirector: Mandla Dube |
| The History of EternityDirector: Camilo Cavalcante | The Battle of SevastopolDirector: Sergey Mokritsky | CinemawalaDirector: Kaushik Ganguly | Songs of the PhoenixDirector: Tian-Ming Wu | Mrs. Right GuyDirector: Adze Ugah |
| They'll Come BackDirector: Marcello Lordello | Very Best DayDirector: Zhora Krizovnicka | ThithiDirector: Raam Reddy | Xuan ZangDirector: Jianqi Huo | TessDirector: Meg Rickards |