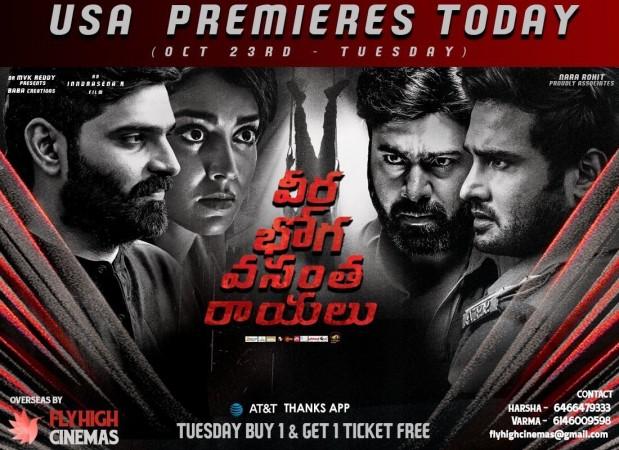 The film critics are upset with poor scripting and direction in Veera Bhoga Vasantha Rayalu (VBVR) and say Nara Rohith, Sudheer Babu, Shriya Saran and Sree Vishnu's performances are the only saving grace.
Veera Bhoga Vasantha Rayalu is a crime mystery thriller that deals with three subplots about a missed flight, a house and kid. The critics say that Indrasena has come up with an interesting concept, but he has failed execute it in a convincing way. The director has failed to make it engaging and entertaining with his filmmaking skills.
Nara Rohith, Sudheer Babu, Shriya Saran and Sree Vishnu have played the lead roles in Veera Bhoga Vasantha Rayalu and their wonderful performances are the only solace of the movie. Its production values are average and they are equal to that of a short film, add the critics, who have rated it an average of 1.5 out of five stars.
We bring you some critics' verdict and ratings for the movie. Continue to see them Veera Bhoga Vasantha Rayalu review roundup:
123Telugu Rating: 2
Veera Bhoga Vasantha Rayulu is a silly mystery thriller which goes wrong in every which way. Though the major star cast tries hard to save the film with their performance, there is nothing interesting that the audience can look forward to. So, keep your expectations in check and watch it at your own risk.
Telugu360 Rating 1
'Veera Bhoga Vasantha Rayalu 'is a disengaging mystery film with a lot of blood and gore. With poor production values and illogical scenes this film is avoidable.
Tollywood Rate: 2
Overall Veera Bhoga Vasantha Rayalu is a meaningless and poorly executed crime mystery thriller movie. Only the performance of its cast is the plus point. The weak direction, screenplay, few illogical scenes (Sri Vishnu killing 300 criminals and house missing episode) may not appeal to a larger section of the audience.
Mirchi9 review:
A crime thriller has gone horribly wrong in execution. Short films have better quality in making than what is at the display here.