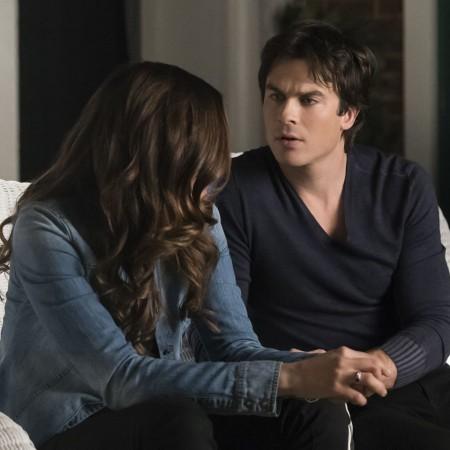 Friday's episode of The Vampire Diaries will see Sybil getting into Damon's head and meddling with his memories of Elena, and speculations are rife that he would end up hating the love of his life. Sybil does this for her own amusement, and also to prevent Damon from resisting her attempts to control him.
Nina Dobrev will be featured in the episode, but viewers will see an archived footage from the first time Elena and Damon met.
Elsewhere in the episode titled Today Will Be Different, which is actually the first line in Elena's diary in the Pilot, viewers will see Sarah Salvatore returning and she will be Damon and Enzo's next target.
Showrunner Julie Plec remained evasive when TVLine questioned her about Sarah Salvatore's return, but added that it's a mystery unrelated to the happenings in Mystic Falls that brings Sarah back. "It's actually a mystery what brings her back," said Plec. "It's seemingly disconnected to everything, and yet when we realize the what, we understand that it's tied into exactly what the villain is attempting to do."
The synopsis for Today Will Be Different reads:
After learning that someone from Stefan's past may be Damon and Enzo's next target, Stefan, Bonnie and Caroline head to North Carolina. There, Bonnie takes drastic measures in an attempt to break Enzo free of whatever has a hold over him. At the Armory, Alaric and Georgie stumble upon a mysterious symbol that may be related to the supernatural force controlling Damon and Enzo. Finally, Caroline gets an unexpected surprise from Stefan.
The Vampire Diaries airs Fridays on the CW.