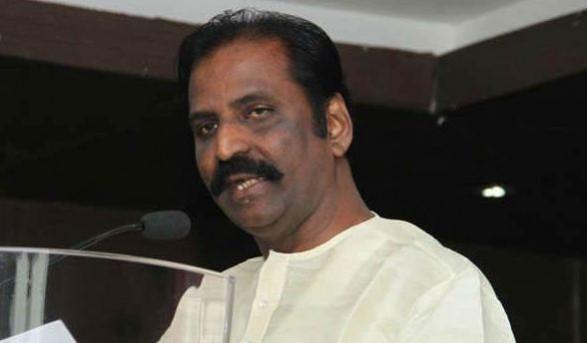 Vairamuthu seems to be in trouble after one more person has come forward with a sexual harassment case against him. An anonymous woman has made a shocking allegation against the National Award winning lyricist.
She has called him a sexual "predator". Vairamuthu reportedly invited her to her office and misbehaved with her. The woman has claimed that she never thought Vairamuthu would attack her. He had allegedly warned her not to inform about the incident to his wife
Her complete text of allegations can be read below:
Dear Sandhya Menon. We don't know each other. But my name is m writing to you ecause want to add to the allegations against Vairamuthu. He is a predator. I was hardly 18/19 years old ( still in college) when he in the pretext of appreciating my work called me to his office, a pad on the top floor at Seethammal colony. I went as he was a senior writer and I thought of him really like a Grand father figure( that's the age difference between us). It didn't even cross my mind that he could be dangerous. But soon as I entered he locked the door behind him and tried to touch me.
I made an excuse and ran out. Later that week he called me and told me to not tell his wife who also I knew, as our family was introduced to her earlier at a function. I told him to never harass me again and I left it there. Today, after reading the mesg from the other girl, my heart has picked up the courage to say this out loud. Please please kindly avoid my name coming out as I have already faced too much flake in life for speaking up and I'm in no mental strength to take public lashing anymore. But I wanted to and feel deeply relieved to share my sad secret. We women live with so much burden. Apart from the abuse, it is the backlash of shame, speculation from our society that hurts us the most. I'm Sending this mesg to add strength to the other girl's story. Please avoid my name, if you must at all add my story to it.
This is second such allegation against Vairamuthu after another woman made a similar kind of allegation. The post has been tweeted by journalist Sandhya Menon.
"In the pretext of explaining lyrics, he came to me, hugged me and kissed me. I did not know what to do. I said OK sir, thank you and ran from his house. His house and office were the same in Kodambakkam. People were asked to meet him there if I remember right. [sic]" the anonymous woman's allegations read.
"I have shuddered being alone in a room with him though my work gave me more instances where I had to work with him. I made sure I was in a group. That Vairamuthu is a predator is an open secret in the film industry but no one will expose him because of his political connections, which he uses often to silence victims. It happened to me. And this is the truth. I want to be anonymous. Thank you. [sic]" the alleged victim claims.