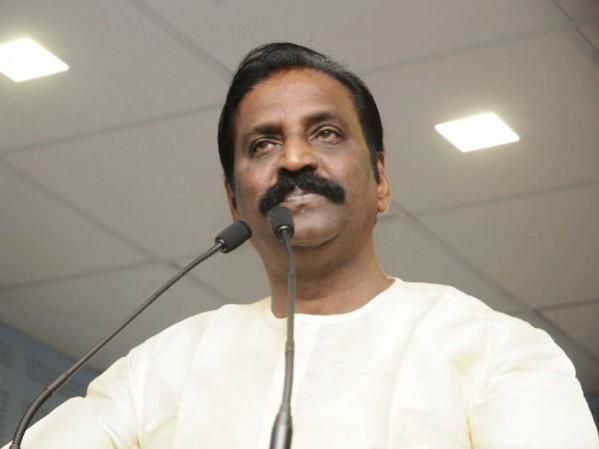 The controversy around Vairamuthu's comments on saint Andal refuses to die despite the lyricist issued apology twice. With right-wing groups coming down heavily on the veteran, the BJP has scored a 'Mersal moment' again.
The issue might have gone unnoticed if not for H Raja of the Tamil Nadu BJP provoking the netizens. "What Vairamuthu has said is poisonous. It is unfortunate and condemnable that Dinamani has given a platform to a disgraceful person. The quality and respect of Dinamani daily broke down in a moment. Dinamani should apologise to the public," he tweeted.
At an event in the Srivilliputhur Andal temple, the poet and lyricist had mentioned about a research by Indiana University which stated that Andal belonged to Devadasi community and his speech was published in widely-circulated Dinamani.
The Devadasi system was a practice where young girls used to be married to the deity of the temple before they attain puberty. The girls will spend the rest of their lives in the service of the temple. In many cases, they were sexually exploited and pushed into prostitution.
Earlier the BJP protested against the Tamil film Mersal for its critical comments on GST. Now the BJP is once again cashing in on to gain political mileage by attacking the poet for his comments on Andal, one of the most revered poet-saints from south India.
The only difference is this time Hindu outfits that include Hindu Munnani joined the BJP in criticising Vairamuthu. Though he apologised and clarified that he quoted from a research and they were not his views on Andal, protestors turned a deaf ear and continued their attack.
As the controversy doesn't seem to die down, the poet had come out with a detailed explanation and an apology to the public. Scroll down to read:
However, the trolling on Twitter kept continuing. A mocking video has emerged online that shows a woman with two children praying the God to forgive Vairamuthu has now gone viral. [Video can be watched below].
There were many silent protest happening at various places. See this wonderful way of condeming #Vairamuthu. Little girl prays for his mercy and wish he realizes his mistake soon. God bless these kids ? pic.twitter.com/cSl4ydMExp

— Ramalingam KV (@Ramkaashyap) January 16, 2018
Also, many have slammed Vairamuthu:
Krithika Sivaswamy: Huge crowd from all sections of Hinduism protesting against #Vairamuthu against the derogatory remark he made on #andal Lovely to see such a unity. We are waking up against hate speech @TimesNow @AnchorAnandN @republic @RShivshankar n other national media no time to cover this?
Kumar: #bharathiraja #vairamuthu The joker bharathiraja says Can you write like him. Can vairamuthu even strat comparing before andal's tamil. thirupavai rouses tamil as tamil. His works are after he is roused in foreign resorts and writes junks.
MI: Not just #Andal dont belittle any religion beliefs and sentiments, irrespective of whether u r a theist or atheist. You can express your rationality and try social reforms through other pragmatic ways, why belittle the gods that u don't believe? #Vairamuthu
Achintiyah: #Vairamuthu has achieved something extraordinary he has made Hindus living in a shell come out in the streets and Protest against these Thiruthu Dravidam goons. #Andal #IamAndal
Aakash Raj Razdhan wrote: Defenders of Tamizh culture were too busy to raise their voices against #Vairamuthu's vile comments on Aandal. Protests largely led by the miniscule Tamizh Brahmin community.
Ganesh R: What is #RahulGandhi, a#janeudhari Hindu's reaction to #Vairamuthu's #Aandaal comments? @rvaidya2000 @davidfrawleyved @Gopalee67 @sgurumurthy