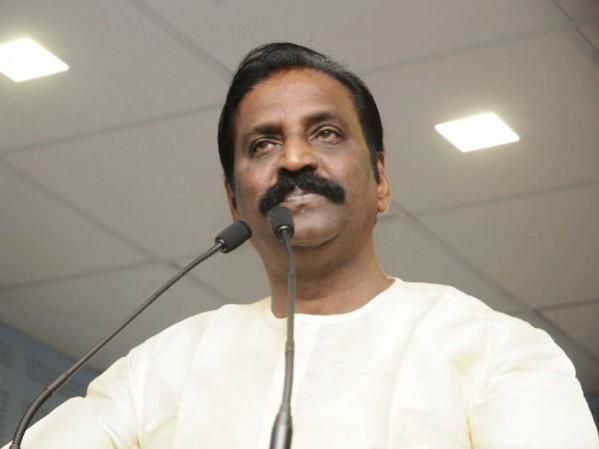 In what could be considered as a big shock to the Kollywood, sexual harassment allegations have now surfaced against the National Award winning lyricist and poet Vairamuthu. A woman had accused him of sexual misconduct years ago.
Many journalists and people associated in the art field have started a campaign, 'MeToo' to name and shame those who had misbehaved with them. Several scribes have opened up on their peers and co-workers misusing their positions and sexually harassing them.
An anonymous woman has shared her plight with journalist Sandhya Menon. The alleged victim claims that she was 18 when she had collaborated with Vairamuthu for a project.
"In the pretext of explaining lyrics, he came to me, hugged me and kissed me. I did not know what to do. I said OK sir, thank you and ran from his house. His house and office were the same in Kodambakkam. People were asked to meet him there if I remember right. [sic]" the anonymous woman's allegations read.
"I have shuddered being alone in a room with him though my work gave me more instances where I had to work with him. I made sure I was in a group. That Vairamuthu is a predator is an open secret in the film industry but no one will expose him because of his political connections, which he uses often to silence victims. It happened to me. And this is the truth. I want to be anonymous. Thank you. [sic]" the alleged victim claims.
Soon after the allegations were out on social media sites, netizens jumped the guns and criticised him for such behaviour. Below, find the select-few comments made on Twitter:
Nina Kutty: TN slowly opening up. Good. First comedian SA now #Vairamuthu bring them out.
Ayshvarya Narayanan: This is really shocking.
Reminds me of his lyrics, "kadalil meen onnu azhutha, karaiku seithi vandhu seruma?"
Sometimes it does. #TimesUp #Vairamuthu
Tamil cinema lover: I think now its the right time for the #metoo mvment for the entire Indian film industry, thanks 2 #TanushreeDutta I hop wmen will speak the truth & only d truth. More women will come forward to speak on what happened To them & people should LISTEN first & then JUDGE!#vairamuthu
Uma: Don't think Chinmayi will risk her whole career for any random message. I believe this allegations are authentic. More power and positivity to the lovely lady who chose to expose Vairamuthu. And Chinmayi.. More Respect for sharing this.
#MeeToo #Vairamuthu
Bhuvana: No wonder #Vairamuthu came up with his ridiculous theory about #Andal. Just as the world looks yellow to a jaundiced person perhaps everyone looked like they were involved in unacceptable sexual activities that @vairamuthu practices. @Harvard I hope you are making your notes
Uday Kumar: I do not know if this is true. But there is no smoke without fire.#Vairamuthu
Ramsundar: #Vairamuthu is named !!!!
Let's see whether the Mainstream media subdues this revelation or investigate it further to verify the authenticity of the claims.
Anray lal: BJP's move for make us forget about Rafael & petrol prices is #sexualharassment So beware they may use some prominent personalities to take up this topics to defame a person who is among very strong among us..#Vairamuthu sollu rathu yeva nu paarungo..
bala narayanan: Please surrender all honor you recd from Government. Still there may be many actresses to come out in this issue #Vairamuthu
Senthil: Today adding vairamuthu in the contest. Can't agree more like these habituals of protesting and indisciplinary behaviour with women. How many of those ? #MeTooIndia #Vairamuthu.