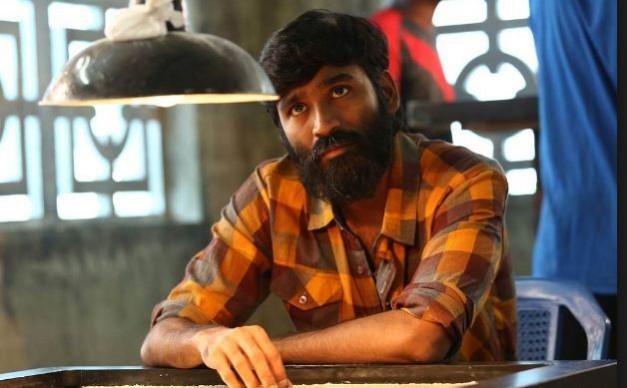 Vetrimaaran's ambitious movie Vada Chennai has opened to highly positive reviews from the netizens. The brilliant screenplay backed by the solid performance from the cast that include Dhanush and Aishwarya Rajesh have been whole-heartedly praised by the viewers. Last but not the least, the contribution from the technical team has elevated the quality of the flick.
A real story that Vetrimaaran heard when he was doing his debut movie Polladhavan had been with him for years before he decided to make a film. In 2010, Vetrimaaran planned the project titled Vada Chennai with Simbu, who could not take up the movie due to his other commitments. Vada Chennai latest movie stills.
Cloud Nine Movies came forward to produce the movie even as there were lots of changes happening in the cast. Finally, Dhanush took over the project, which is now ready as a three-part movie of which the first instalment will hit the screens on Thursday, October 17.
Vada Chennai Story:
The first part of Vada Chennai tells the story of national-level carom player Anbu (Dhanush). It revolves around how he gets embroiled in a turf war with gangsters in North Chennai. The film is all about their gangsters' rise, their political connections and their downfall.
The incidents are real although it doesn't focus on one particular person. How Anbu's life changes after falling prey to the trap set by a mafia gang forms the crux of the story.
Vada Chennai Review and Analysis:
A rustic original story on gangsters in North Madras and stays true to its genre. The movie is filled with raw moments and the detailing in the screenplay make it a cult gangster film. The politics that the movie tells is relatable and creates an impact. It walks you through the life of North Chennai people with so much authenticity. Vetrimaaran has penned the story which is close to reality and not got influenced by the 'mass' factors.
Average Ratings Given by Audience:
Dhanush has got into the skin of the character. His performance as a teenage boy to a developing gangster deserves huge applause. Aishwarya Rajesh has a cracking chemistry with Dhanush. Ameer, Andrea, Samuthirakani, Kishore and everyone have done justice to their roles.
Santosh Narayanan's background score, art design, sound design and cinematography are top notch.
Find out what the viewers say about the Tamil movie:
Surendhar MK: #VadaChennai first half: Fiercely passionate storytelling from @VetriMaaran. Paints a blow-by-blow portrait of the world of North Madras with his characters and an unrestrained narrative. Waiting for the second half!
#VadaChennai: @VetriMaaran's effective use of the North Chennai locations and blood-drenched murders create the necessary tension to keep the audiences engaged throughout the film. Each and every character is solidly established now. Stage is tastefully set for the second part.
#VadaChennai: @dhanushkraja turns in another intense performance in a @VetriMaaran film. The fact that the latter always brings out the best in him is proved once again. Green lighting this project is in itself a blazing display of bravura from #Dhanush. Thank you!
Vishwa Jith: #Vadachennai: Vetrimaran strikes gold yet again, this time with a proper gangster film which Tamil cinema missed all these years. Gripping throughout the runtime, makes sure that one never gets bored. Interval sequence and pre climax portions will give you adreline rush for sure, repeat worthy moments.
Dhanush gives his lifetime performance, TC has got one of the best actors. Three stages of Anbu has been potrayed beautifully on screen, one can feel the difference in his body language, dialogue delivery and performance. Wait begins to witness "The rise of Anbu" VC2 in 2019.
Every supporting character in the film has a story and has outperformed each other but Dhanush, Ameer, Kishore and Samuthirakani padam fulla score panatha Andrea pre-climax la thuki sapta, such powerful character.
Santhosh Narayanan is indeed the backbone of the film, authentic songs and terrific background score right from the title card to the end credits.
Film certified 'A' for the swear words used & blood shed, thanks to the censor board for releasing the film without any major cuts or mute. Vadachennai is raw & brutal, go experience it on big screen. #Vetrimaran
Sreedhar Pillai: #VadaChennai well made gritty underworld gangster drama told in cold blooded manner by @VetriMaaran against backdrop of major political upheavals in TN from late 1980's to early 2000. Brilliant performances @dhanushkraja & team of fine actors, #Ameer steals the show! Now 4 part 2
Christopher Kanagaraj: #VadaChennai (Part - 1) | Raw, Rusty, Depth & Detailed Story Telling from Vetrimaran. Another milestone film for Dhanush. All d actors hv done superb job. Haunting BGM. Amazing sets & camera. Abrupt cuts in few places. Slow paced. Its 'A' film,watch out for d language:) Liked it!
karthik: #Vadachennai - 4.5/5.. The women are all powerhouses influencing their rugged men - @aishu_dil (yet another milestone moment for her), #Andrea (pivotal part) and the actress playing Kishore's wife.. @VetriMaaran respects his female actors and gives them their due.
Vishal: #Vadachennai - 4.5/5.. A layered, delightful gangster EPIC as expected.. Will be a treat for cinema veriyans.. Evlo characters, Evlo moments, Evlo drama
Waiting for Anbuvin Ezhuchchi - Part 2.. Seekram edunga @VetriMaaran @dhanushkraja sirs.. Theri!
Faizal Babu: The Kind Of Technique #VetriMaran Handled In The Story Telling Will Keep You Engaged And Surprised. #VadaChennai -The People-Rowdyism-Politics Behind It; Everything dealt In Detail. Since The Film Stands True To Its Genre, Not Recommended For Kids. Eagerly Waiting For Part✌️ 2/2
#VadaChennai - The Joy Of Seeing Great Writing On Screen#VetriMaran Does It Once Again. Starting From @dhanushkraja Who Done His Role Effortlessly, Every Other Actors Have Thier Equal Space To Perform And They Done It Perfectly. Personally Liked #Ameer's Portion A Lot. 1/2
surendar: #vadachennai First time I want the movie not to end.Greatest movie of all http://time.Best screenplay ever @VetriMaaran Dhanush @dhanushkraja lived in the character anbu vera level performance @andrea_jeremiah very unique and best role in her career.
Priya - PRO: #VadaChennai Interval - Unadulterated portrayal , too raw and too deep. This man @dhanushkraja - Vera levelnga neenga. And @aishu_dil - People will think twice before speaking to u from here on !! Whole new experience this !!
Haricharan Pudipeddi: #VadaChennai - Delicious, dark, deep dive into the world of rowdyism, politics and survival. Scheming men; bold women. Absolutely impossible to walk out without feeling your heart in your mouth. Take a bow, @VetriMaaran. More in my review. Halfway through #VadaChennai and what a thrill fest it's been so far. In love with the slow-burning mood.
Review Ram: #VadaChennai - Interval - Not even a single dull moment till now. Top-notch writing which has deep interconnections. #Dhanush does not seem like a star here, instead as a character artist. Ultimate break scene. #VetriMaaran takes us to a new gangster world. 'Gripping' so far
Raghavan Sridharan: #VadaChennai (Tamil) - A gritty action drama that has commendable storytelling, characterizations and performances. Adi dhool hat-trick from the most trusted '#Dhanush & #VetriMaaran' combo! #VadachennaiFromToday @aditi1231 @wunderbarfilms
VadaChennai - Brilliant would be an understatement. Such an awesome first half. Spellbound. #vadachennai
Rajasekar: #VadaChennai - 4.5/5, A cult classic masterpiece by @VetriMaaran. Finally, a original gangster drama made in Tamil cinema (At least we saw inspirations of #GodFather in Nayagan and Pudhupettai). Perfect start for the trilogy, bring it on @dhanushkraja
#VadaChennai - Ameer Sultan as Rajan and #Andrea as Chandra are the anchors of the film. Their story decides everything in North Madras and the fate of all the characters.
#VadaChennai - 4.5/5, Hats off @dhanushkraja who sheds his star image and lived as Anbu which is a big deal. He succeeded both as a passionate producer and powerful performer. Tamil cinema need such big stars who love and breathe unadulterated cinema
#VadaChennai - it takes a a lot of guts for a Tamil heroine to get into the skin of a pucca North Chennai girl. Without any inhibitions, @aishu_dil pulls it off with a great elan
#Vadachennai first half - raw and gritty gangster drama so far filled with a lot of cuss words justifying the genre. Underdog Anbu @dhanushkraja has many layers in the film&he simply rocks. @VetriMaaran packed the film with several characters. @Music_Santhosh in top form here
Prashanth Rangaswamy: #VadaChennai Interval - Unadulterated portrayal , too raw and too deep. This man @dhanushkraja - Vera levelnga neenga. And @aishu_dil - People will think twice before speaking to u from here on !! Whole new experience this !! .
Kaushik LM: #Vadachennai - 4.5/5. Hope the team doesn't delay the sequel. Suda suda mudichu release pannunga.. Ideally it shd come by mid 2019 #Anbu shd return.. @VetriMaaran @dhanushkraja
#Vadachennai - 4.5/5. Kudos to @Music_Santhosh, Dop @VelrajR, costume designer @amritharam2, the editor & the full crew for being @VetriMaaran's pillars. All of them can be proud of their work. Many awards and of course commercial rewards await the team @dhanushkraja
#Vadachennai - 4.5/5.. Will be a pakka repeat watch. Goosebumps guaranteed, when you relive and discuss the film. @dhanushkraja deserves all the praise for not overpowering the film with his mass hero image. He's just a tool that @VetriMaaran has used to grt effect. #Ameer was.
#Vadachennai - 4.5/5.. A layered, delightful gangster EPIC as expected.. Will be a treat for cinema veriyans.. Evlo characters, Evlo moments, Evlo drama
Waiting for Anbuvin Ezhuchchi - Part 2.. Seekram edunga @VetriMaaran @dhanushkraja sirs.. Theri!
#Vadachennai 1st half -Looks like an epic in the making. Tamil cinema seems to have its answer to the epic gangster films from Hollywood. No needless mass commercial compromises here; the songs flow organically with the film. Looking fwd to the 2nd half @VetriMaaran @dhanushkraja
#Vadachennai 1st half - @aishu_dil's episodes are super entertaining. Definitely her slang, role and language are something totally new. Cracking chemistry with @dhanushkraja.
D is the Kadhainayagan with no needless heroism. Mature, restrained performance amid so many characters
#Vadachennai 1st half - The most detailed and in-depth portrayal of jail life in Tamil cinema till date. @VetriMaaran takes it to the next level and also throws in a little 'Mahanadi' reference. Many characters, authentic gangster genre film. Has a couple of 'wow' sequences
Sidhu: #VadaChennai: Blessed to have @dhanushkraja in our industry, somebody who does not care about his hero status and takes part in the film as a character. His role as Anbu will not only go down as a memorable performance, but is also a great example for an actor's choice. Kudos!
#VadaChennai: Repeat watch guaranteed for it's pulsating, intense sequences such as the interval block and the climax. You cannot ask for a better gangster drama in Tamil cinema. Real, rustic and rocking!
#VadaChennai: Dhanush, Ameer, Aishwarya, Andrea, Samuthrakani, Kishore and everybody else in the cast have a strong and thumping character to essay. The dots are wonderfully joined by the end with some really lovable turns in the narrative. So many wow moments!
#VadaChennai: Amazingmaxx. A tremendously engaging and exciting fare where nearly everything feels right. @dhanushkraja and @VetriMaaran have given us a raw, world class gangster drama that will go down as a real epic. The BEST!
#VadaChennai Interval: Only halfway through, but what a kick-ass performance dear @dhanushkraja. Totally gets into the skin of character and rules in a role where the heroism comes late. His scenes with @aishu_dil are very enjoyable, with the cuss words flowing freely!
uyirmusic: #VadaChennai 1st half :
STUNNER Interval Block!!!
Full fledged Madras Swag & pakka raw material from @VetriMaaran .... Mass fight scenes, unmuted dialogues... @dhanushkraja is winning it big! @aishu_dil nails it...