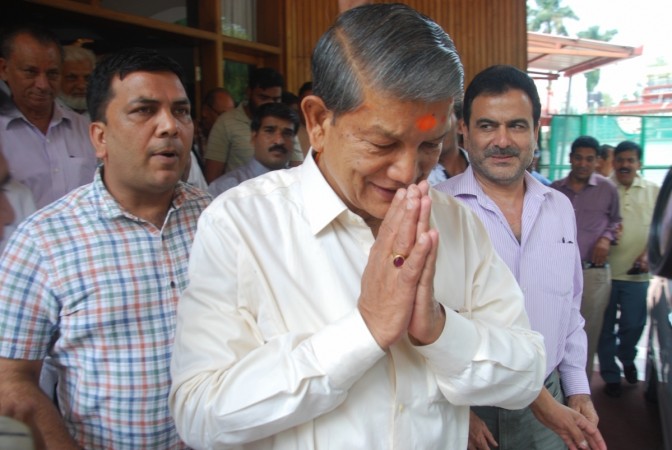 UPDATE: 12:21 p.m. IST — The floor test in the Uttarakhand Assembly to determine the fate of ousted chief minister and Congress leader Harish Rawat was held on Tuesday. The trust vote was held under the strict guidelines of the Supreme Court, which will announce the result on Wednesday.
A journalist with the Hindu quoted sources as saying that Rawat won the floor test.
#Uttarakhand #Floortest over. Harish Rawat wins trust vote, sources said. Results to be presented in the Supreme Court @the_hindu @nistula

— Kavita Upadhyay (@Cavieta) May 10, 2016
UPDATE: 11:53 p.m. IST — Bahujan Samaj Party (BSP) chief Mayawati on Tuesday said her party legislators in the Uttarakhand Assembly will vote for ousted chief minister Harish Rawat during the floor test, according to reports.
The process for the floor test in the Assembly began around 11 a.m. and President's rule was lifted till 1 p.m., the Hindu reported. Congress MLA Rekha Arya defected to the BJP, while BJP legislator Bhimlal Arya is reported to vote for the Congress.
'No deal with BJP, our party will vote in favour of Congress',says BSP's Mayawati ahead of floor test in Uttarakhandhttps://t.co/Gq6xocIr8Q

— ANI (@ANI_news) May 10, 2016
Original Story —
Uttarakhand Assembly will on Tuesday witness the long-awaited floor test to decide the fate of ousted chief minister Harish Rawat. While Congress is confident of winning the test, two Bahujan Samaj Party (BSP) MLAs have extended their support to Rawat.
BSP legislators Haridas and Sarwat Karim Ansari reportedly said they were not part of the Progressive Democratic Front (PDF) anymore and will vote for the Congres, according to the Indian Express. However, party chief Mayawati will take the final call.
The support from the BSP legislators and the Supreme Court's order prohibiting nine disqualified rebel Congress MLAs from participating in the floor test have raised hopes of the Congress.
The MLAs will cast their votes in a two-hour session, to be held between 10 a.m. and 1 p.m., under the guidelines of the Supreme Court. The President's rule that was imposed on March 27 will be lifted during the floor test, which will be videotaped. The result will be submitted to the Supreme Court on May 11.
Uttarakhand Assembly has 62 MLAs, including 27 from the Congress, 28 from the BJP, six from PDF and one nominated member. The Congress needs 32 votes to return to power in the state.
"We're in complete majority,we've numbers.We'll prove majority in Uttarakhand Assembly today," Congress' Indira Hridayesh told Asian News International.
Section 144 of the Indian Penal Code of Criminal Procedure was invoked in Dehradun at 5 p.m. on Monday for the floor test.
We're in complete majority,we've numbers.We'll prove majority in #Uttarakhand Assembly today-Indira Hridayesh, Cong pic.twitter.com/ajlcY22i8o

— ANI (@ANI_news) May 10, 2016