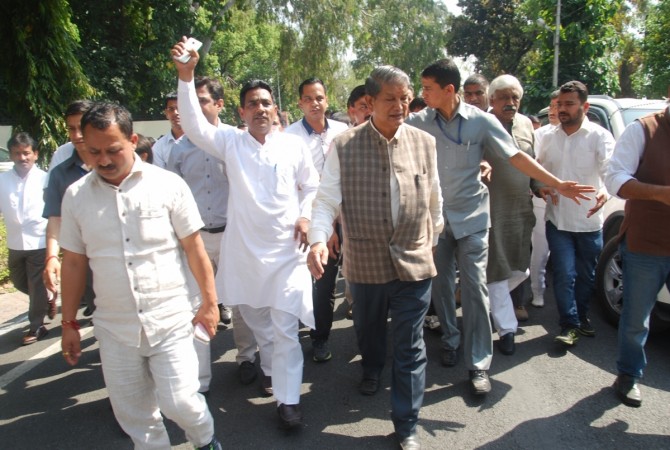 Update: 4:40 p.m. IST — The nine rebel Congress MLAs wouldn't be participating in the floor test in Uttarakhand Assembly on Tuesday as the Supreme Court on Monday refused to allow them to cast their vote.
The matter of their disqualification will be heard on July 12 next.
Original Story — Former Uttarakhand Chief Minister Harish Rawat accused the Centre of blackmailing and keeping him, his family and close aides under surveillance after a second sting video came up that showed Rawat's close aide, Madan Bisht, reportedly involved in horse-trading. Rawat also said that after the floor test on May 10 he would launch a campaign against the Centre.
In the video that was released on Sunday by the same channel, Samachar Plus, which led the first sting against Rawat, Bisht is seen telling rebel Congress MLA Harak Singh Rawat that he made the former chief minister pay Rs. 25 lakh each to 12 Congress MLAs as "kharcha-paani (pocket change)," according to the Indian Express.
On Sunday, Bisht had filed an FIR alleging he was being threatened by Harak Singh Rawat to vote against Harish Rawat. He also accused the BJP of threatening him.
"The Centre and its BJP government is spreading divisive politics. I have decided that after May 10 (the date of the trust vote), we will start a campaign against these blackmailers. Our MLAs and leaders are getting threatening messages from conduits who are posing as relatives, well-wishers and acquaintances," Rawat was quoted as saying by NDTV after the sting video was released. "I am also being kept under surveillance as if I am an anti-national."
"This looks like a conspiracy same as the previous sting. We are looking at legal recourse. After all, there are guidelines that govern sting operations," said Congress state president Kishor Upadhyay.
High Court dismisses rebel MLAs' plea
On Monday, the Nainital High Court dismissed a plea by rebel Congress legislators for overturning their disqualification. The nine rebel MLAs approached the Supreme Court for an urgent hearing after the Nainital High Court dismissed their plea. The apex court will hear their plea on Monday.
The nine rebel Congress MLAs will not be permitted to vote for the floor test on May 10 — if the high court order is upheld — which Rawat reportedly expects to win. However, loyalties of two Bahujan Samaj Party (BSP) members, who are part of the People's Democratic Front (PDF) that backed his former government, have been wavering before the floor test, the Indian Express reported.