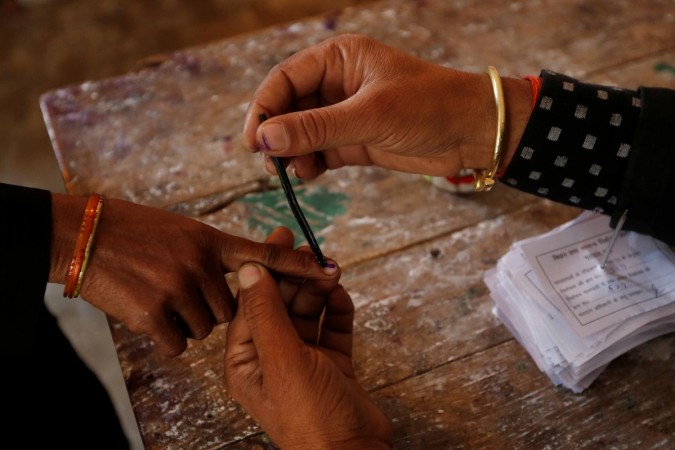 Fraudulent voters and use of different methods to rig elections is not uncommon in India. But in the ongoing Assembly election in Uttar Pradesh, elements have found newer ways to manipulate the election.
Assembly elections 2017: From Narendra Modi to Rahul Gandhi to Sidhu to Kejriwal, top leaders are accused of poll code violation
According to a Daily Mail report, an undercover investigation done by India Today has revealed about an operation which is being carried out by prosthetic limb dealers who sell silicone fingers to political parties so that they can rig the elections by casting additional votes.
The demand for fake fingers which has increased due to the political leaders ordering them in bulk has put the objective of the indelible ink to prevent voters from recasting their votes in jeopardy.
The sting operation revealed Shambhu Kumar, a consultant at Delhi's Born Life, not only revealed that crooks are procuring prosthetic fingers to fool poll officials into allowing them in election booths for multiple voting, possibly in multiple booths but also the name of a prominent political party from Lucknow, which has placed a bulk order of these silicone fingers with his artificial limbs company.
"The truth is we just got orders for 500 fingers from Lucknow. I am telling you the truth," he said. "Keep these products with you and use them. No other party should be approaching you. You do your work and leave (the scene). I'll have the colour (of the fake finger) match (with the skin) as much as 90 per cent," Yadav told India Today TV.
Prosthetic consultants at P&O International Inc, Delhi, is selling these fake silicon fingers at a price of Rs 1.1 lakh for 10 pieces.
The consultants were completely aware that their products will be used for fraudulent voting.
'When you punch (biometric devices), it's scanned. You can't, therefore, use it for punching. In voting, they just leave an ink mark. They won't be able to identify by touch,' said Namrata of P&O International Inc at Vimhans. Her senior colleague even assured the sting operators that he would deliver the silicon fingers within four days.
The consultants even demonstrated the way one could use the fake fingers and fool the electoral authorities.
Agendra Kumar, a senior consultant at Delhi's Ideal Artificial Limb Solution, also revealed that there has been a steady increase in demand for the silicon fingers.
"I am now running away. There's so much demand," he said, naming a political party of Uttar Pradesh and that importing them would resolve the demand.
But it is not just elections that can be rigged; prosthetic limbs are also used for mass recruitments.
"It (fake fingers) won't be identified in voting. There's hardly any scrutiny. People (with defective limbs) wear them in (medical) examination for police and army recruitment drives and clear them," said Anupriya Chauhan, another consultant at Ideal Artificial Limbs Solution. She also added that using the prosthetics to vote multiple times will not cause any issue.
After the investigation was aired, Vimhans denied its involvement in the supply of fake limbs to fraudulent voters.
"The hospital has no involvement in whatever claims he has made," said Vimhans spokesman Pramod Tripathi to India Today.
India Today also exposed politicians like Ateeq Ahmed Saifi, a Bahujan Samaj Party candidate from Moradabad constituency and Atul Garg, a Samajwadi Party candidate from Agra North, who admitted that they won't hesitate to bribe and even shell out extra money to ensure their victory.