Kamal Haasan starrer "Uttama Villain" aka "Uthama Villain" has hit the screens in some foreign countries on Thursday, 30 April. Unfortunately, it did not release in India due to some financial issues. Finally, it has released on Saturday evening.
'Uttama Villain' Box Office: How Much Loss did Makers Suffer due to Delay in Release?
The Tamil movie is a emotionally-moving drama movie, which features Pooja Kumar and Andrea Jeremiah in the female lead roles. "Uttama Villain" is also a special for the audience as it is the last film of late legendary actor and director K Balachander.
In the film, Kamal Haasan plays an 8th century theatre artist and a modern-day superstar. It is directed by actor Ramesh Aravind.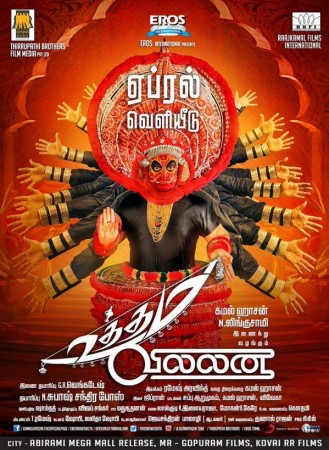 "Uttama Villain" also features K Vishwanath, Jayaram, Nassar, Parvathi Menon, Parvathy Nair, Urvashi, MS Bhaskar, Anant Mahadevan and others are in the cast. The movie has M Ghibran's music, Shamdat's cinematography and Vijay Shankar's editing.
Superstar Manoranjan (Kamal Haasan) is insecure and arrogant. His close friends are Chokkalingam, Poornachandra Rao (K Vishwanath), wife Varalakshmi (Urvashi) and doctor Arpana (Andrea). A day comes to him where he returns his advance to a producer to make a comedy with hs guru Margadarsi (K Balachander). This comes as a surprise to the people around him. However, he has a reason to it and what happens next is the interesting part of the story.
Read: 'Vai Raja Vai' Movie Review
Kaushik LM Tweeted
#UttamaVillain 1st half done - #KamalHaasan, the immortal artiste ruling. Grt acting by all support actors too. Ambitious, emotional ride
#UttamaVillain 1st half done - the musical part of the story can be done only by someone like #Kamal. Daring, entertaining at the same time
#UttamaVillain -A labor of passion touching upon love, art, relationships, redemption & immortality with brilliant acting by all. #Kamal m/
#UttamaVillain 3.75 / 5
An experience like this is hard to find nowadays. See this with patience and passion. The end result will floor you
#UttamaVillain - 3.75 / 5
No words to describe #Kamal sir's talents. Its like seeing his real life and passion on screen. Kalanga vechitaaru
#UttamaVillain 3.75 / 5
Each of the support actors is GOLD.
#KB sir, what a masterclass. #Andrea totally takes us by surprise with a stunner
#UttamaVillain 3.75 / 5
And Nasser, Urvashi, MSBasker, Pooja Kumar and we can go on and on.
Easily the best movie of the year by far.
#UttamaVillain 3.75 / 5
Kudos to @ThirrupathiBros for continuing to invest in good cinema all along. This is a diff level for them too. Grt
#VaiRajaVai going on. #Yuvan BGM on veralevel. Brings in an International sound. Extrasensory perception is the key plot idea. Decent so far
Sreedhar Pillai Tweeted
#UttamaVillain 3.5/5 Very Good, classy with a towering performance #KamalHaasan,the heart & soul along with ensemble cast of fine actors.
#UttamaVillain 3.5/5. @Ramesh_aravind has finely stitched it with nice dialogues by #Kamal, great technical crew & a terrific climax .
#UttamaVillain - 3.5/5. Fab supporting cast of Urvasi, MS Bhaskar, Poo Parvathy & awesome KB sir. Nassar super as comic villain.
#UttamaVillain 3.5/5. Liked life & times of superstar Manoranjan, has an autobiographical streak. Scenes between Kamal & KB sir so realistic
#UttamaVillain 3.5/5. Solid Scenes - Urvasi in hospital with Kamal, Andrea scene with Kamal in the car, Kamal catching practice with son
#UttamaVillain - 3.5/5. I wish the story had focussed more on Manoranjan the star,the idea of a film within a film was a little over the top
Sidhu Wrote
#UttamaVillain Oversea Report : Outstanding & Emotionally attached movie. Climax was major highlights of the movie #KamalHaasan & #KB Sir
Time for the Ulaganayagan! Time for #UttamaVillain!
#UttamaVillain: Yes, you will get teary-eyed if you connect with it. There are a few lows, but when you eat the fruit, throw away the seeds.
#UttamaVillain: A decent first half which shoots up big 15 mins post interval. The climax is the trump card, deserves a standing ovation.
#UttamaVillain: Immortal classic. A highly emotional film which has been pulled off with subtlety. Ulaganayagan is here in style!
KashayamWithBosskey Posted
#UttamaVillain review: Decent first half.
Second half lacks energy, Climax needs standing ovation.
Tribute to KB sir
Verdict: Average - 3/5
Average Ratings Given by Audience: 3
K O T I Posted
You have to be literally immortal to watch this 2.5hrs Stage Drama , not sure which genre this film falls into #UttamaVillain !! Kamal j
Ramnath Posted
@itisprashanth Urvasi, Nasser, KB sir, KV sir, MS Bhaskar were awesome. KH shudve let Crazy write the comedy portions. Some of em didn't wrk
@itisprashanth - Movie is decent. US version is 172 mins. KH's performance was awesome. Music was amazing. Pooja Kumar wasn't good.
Uttaman Posted
#UttamaVillain - Movie within movie and moving between centuries seamlessly and overlaying of immortality theme between the 2 - Brilliant!
Great performances from the entire star cast with standout by Nasser. What a role & performance by the Uttaman character #UttamaVillain
s sadik basha Wrote
I have seen #UttamaVillain . class film. brilliant acting. Amazing BGM. you can't find any flaws. Very clever climax. Feel to see again.
Pratheeba Raja Tweeted
Mesmerizing performance @kamalhassan @PoojaKumarNY #UttamaVillain A unique movie.. An everlasting masterpiece hats off to the cast.
ChennaiVaasi Wrote
Frnd just texted me after watching #UttamaVillain
"Aandavar rocked big time macha - It's a festival of emotions. GO WATCH IT "
Narayanan Tweeted
#UttamaVillain - Kamal acting s great.Movie average and tests your patience
Tamiljunkies Posted
#UttamaVillain will probably be liked by 'class' audience but 'mass' audience may not...
Only Kollywood Posted
Halfway through #UttamaVillain. Top notch performances with some stellar cinematography and music. #KamalHaasan in sublime form!
Absolutely marvelous visuals for LoveaaLoveaa song. 8th century portions are a scream - superbly etched with lots of comedy. #UttamaVillain
Nandakumar Posted
#UttamaVillain Never been so emotional. Kamal sir..you are magic n untouchable. Outstanding performance by everyone! Thunderous response.
Lakshmichandrakanth Wrote
#uttamavillain Clear storyline and Emotional comedy drama.
#UV getting bored of too much songs
S-IaM @s7IaM Wrote
#UttamaVillain neraya porumai venum...kamal acting ...uttama villain documentary episodes alone saving..1.20mts interval vidunga boss
#UttamaVillain kamal knowing abt his daughter epic acting,1ce KB comes it gives a grip,comic episodes like thenaliraman,ghibran bgm.1st half
#UttamaVillain jus tz poojakumar is irritating n annoying.kamal saar pls ..aftr witnessing best acting prfmnce frm tapsee n nithyamenen
Kamal is one f the best actor n 'couple f scenes" was uncomparable fr tat cant b n patience 4 long enough.respect fr hardwork.
#UttamaVillain art dir. camera kamal nasser kb actinh ghibran music r the positives.long drama annoying poojakumar dead narrative minuses
Done with #UttamaVillain kamal n nasser 's acting hardwork pain deserves a much more greater film.kb saar the plot n u was relatable.miss u
Why So Serious Posts
Finally Started Novo Cinemas nee Ads ku oo shankar _/_
Oka Tamil family 7 yrs kid nunchi 70 yrs nanamma varaku 3 gens vacchesinattu unnayi 2 rows mottam valle #UttamaVillain
Deenamma idi Eros International Movie aa .... ok #UttamaVillain
Superstar Manoranjan on screen with single kiss ke lovva song.... BGM bagundi #UttamaVillain
Nice start with a song
Manakenduku saar Dancelu avi kuda lengthy shots.... Ahan just asking
Ghirban's music n BGM are very Gud actually #UttamaVillain
Balachandar - Kamal Hasan gari first interaction scene bavundi total movie lo....rest
First half - Berable
Second Half - 'Shankar _/_'
Errrraaaa ga Kaaallllchiiiiiiii
#UttamaVillain The End
1. Art Movie lovers ku - Gud
2. Commercial Movie Lovers ku - Kukka Rod
3. Kamal Fans ku - Proud Disaster
Prisheela Prasannan Wrote
A lil bit of sugar n spice, a spoon full of attitude, a pinch of crazy emotions and ample of laughter thru out!! Loved it! #Uthamavillain
Gajen Pandithevan Wrote
Uthama Villain -
First half just over.
Mokka ya irukke.
Movie is fail when audience not suppose to laugh but they are during the screenplay.
#Uthamavillain
Acting wise I salute.
Overall : Disappointed
#uttamavillain
THANES Tweeted
#UttamaVillain starts with frst song single kissa.lova @sidhuwrites @TamilBoxOffice1
#UttamaVillain 45 minutes into d.film movie is.moving in.slow.pace but exciting @sidhuwrites @TamilBoxOffice1 @rameshlaus
#UttamaVillain it.is delight http://to.watch k.balachander in.screen
#UttamaVillain music director @Ghibran_Fan made an guest appearance
#UttamaVillain #ParvathyMenon is Kamal.hassan daughter in d.film
#UttamaVillain movie pace is slow 65 minutes over edy
#UttamaVillain 16th century portion is very boring but acting wise is top notch from kamal
THANES @nesboy007 · 2h 2 hours ago
#UttamaVillain 1st half over top notch acting but movie moves is slow.pace @sidhuwrites @TamilBoxOffice1
@Uttaman69 it.is d scenes that k.balachander http://will.direct .kamal ok
#UttamaVillain Msbaskar is kamal manager in.d.movie.superb acting from.him
#UttamaVillain 3/5 an emotional drama top notch acting by kamal bt movie pace is slow n.too long need trimming @sidhuwrites @TamilBoxOffice1
#UttamaVillain it is a dream to see balachander and kamal acts together bt songs does.not click with the audience
#UttamaVillain story wise is not something new but given.d.slow.pace and.long running time one time watchable
#UttamaVillain definitely not up to the mark but kamal takes.us through with his brilliant acting
#UttamaVillain definitely won't break any bo collection as it is an.emotional drama which would not appeal to.all one time watchable
#UttamaVillain really doubt y they take.so.long to.shoot this very indoor movie mostly shoot in sets
Shebby Tweeted
Another #Malaysia source said #KamalHaasan #UttamaVillain movie is like #Superstar #Rajinikanth #Lingaa madhiri (Not Storyline)
Me2Sudhakar Posted
First half completed. Different try of Kamal. #UttamaVillain
Sreenivas Rangan Wrote
Immortal life is like an endless narration.. Death is inevitable but what we do when we live matters the most. #UttamaVillain
The movie leaves you in tears after making you laugh. A wonderful meaning of mortal life conveyed it a subtle manner..#UttamaVillain
Comedy was spontaneous and the one liners and the dialect were highly efficient in kindling roars of laughter . #UttamaVillain
A perfect dedication by kamal sir to his guru KB Sir.. Apt one .. #UttamaVillain
Kamal sir still keeps inspiring, and leaves the audience awestruck with his performance.. Especially in the last 30 minutes #UttamaVillain
The way the stories inside the movie are intertwined with each other proves the efficacy of the master.. Hats off #UttamaVillain
A story inside a story.. What an epic Indian movie after a long time. Gibran has given an astounding BGM and songs.#UttamaVillain
Epic screenplay and weighted performances.. Dialogues and poems throughout the movie were catchy #UttamaVillain
Arshad Batcha™ Posted
Kamal sirs talent & art of film making is extraordinary. But current generation audience are not matured enough to accept it
#UttamaVillain
@r2r_tweets bro... For me it's Rajini Ajith and kamal only...
I'm a big fan fb thewaye living legends... Pls understand.
#UttamaVillain
@r2r_tweets bro... For me it's Rajini Ajith and kamal only...
I'm a big fan fb thewaye living legends... Pls understand.
#UttamaVillain
Jaro Corbett Abraham Tweeted
Another masterpiece acting by #KamalHaasan #UttamaVillain Theyyam Villupaattu fusion is really an adorable feat. The climax is emotional.
Johnson PRO Wrote
#UttamaVillain -Emotionally awe.Ur eyes wud b moistened thru out. 1ly #KamalHaasan cn mke tears roll down with smile
Gd Here Posted
#UttamaVillain screenplay is one of the most gripping screenplays. Everything about it is sheer brilliance.
@PoojaKumarNY @Ramesh_aravind
I loved everything in #UttamaVillain : the sensational screenwriting, brilliant performances. It's another milestone in screenwriting.
P_Haasan Tweeted
#UttamaVillain will be a disappointment only for those who expect to see fight scenes,for others it will be a good, best movie!"
#UttamaVillain After watching movie,I felt proud once again to be a #KamalHaasan fan & also lucky to live in US since there's no issue here!
E4Entertainment Wrote
#UttamaVillain 3.25/5 Brilliant technical department,Photography & Music blends with screenplay.Very good casting.2/2
#UttamaVillain 3.25/5 Understandable writing is a big plus.Dialogues stretched the
run time a bit but the performance & music saves.1/2
Raja K.S Posted
Comedy scenes are really superb, Rocking performance #VaiRajaVai @Actor_Vivek
Bharathnt Wrote
Portions between #KamalHaasan & his son and the emotional climax worked out for me. Wish the audience get to see them soon #UttamaVillain