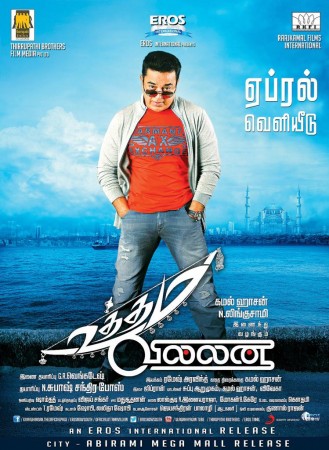 Kamal Haasan starrer "Uttama Villain" aka "Uthama Villain" was supposed to be released on Friday, 1 May. But it was shockingly delayed due to some financial issues, causing huge losses for the makers of the movie.
Read: 'Uttama Villain' Audience Review
The Tamil movie was released in foreign countries on 30 April. But in India, the shows were cancelled at the last minute due to some financial issues between producer Lingusamy and distributor Eros International.
Photos: AR Murugadoss, Jayam Ravi & Others Spotted at a Marriage
What Caused the Delay?
The film is apparently sent as a tiny digital file to theatres over satellite. Exhibitors can start the shows straight away once they have the digital keys with them. The producer had to settle some dues, but as he could not clear it before the release, the financier held back the digital keys and did not provide it to theatres.
As a result, the movie has suffered huge losses. Though nobody can be clear about the exact figure, the early estimation by the traders say that "Uttama Villain" has suffered approximately ₹12 crore losses of business in India on Friday. While from Tamil Nadu alone the film has possibly lost a business of ₹7-8 crore, from the rest of India, the predicted loss is ₹4 crore.
We have to note that the advance booking for the first day shows had got massive response and over 80% tickets of prime-time shows were sold in big cities like Chennai, Bengaluru and others cities.
Traders say that the first-day business is crucial for any movie at the box office as it lays the foundation for the film at collection centres.
In case of "Uttama Villain", the movie was not released in India and the reports from the overseas are already out. So, this factor will have a big impact on Kamal Haasan's movie as there is a chance of people giving a miss, if they go by the mixed response from the overseas audience.
Nonetheless, there is also belief the delay might bring a sympathy wave towards Kamal Haasan's movie. Earlier, such delay worked for the actor's earlier movie "Vishwaroopam".
Meanwhile, "Uttama Villain" is ready to hit the screens on Saturday, 2 May. The film, directed by Ramesh Aravind, features Pooja Kumar and Andrea Jeremiah in the female lead roles.