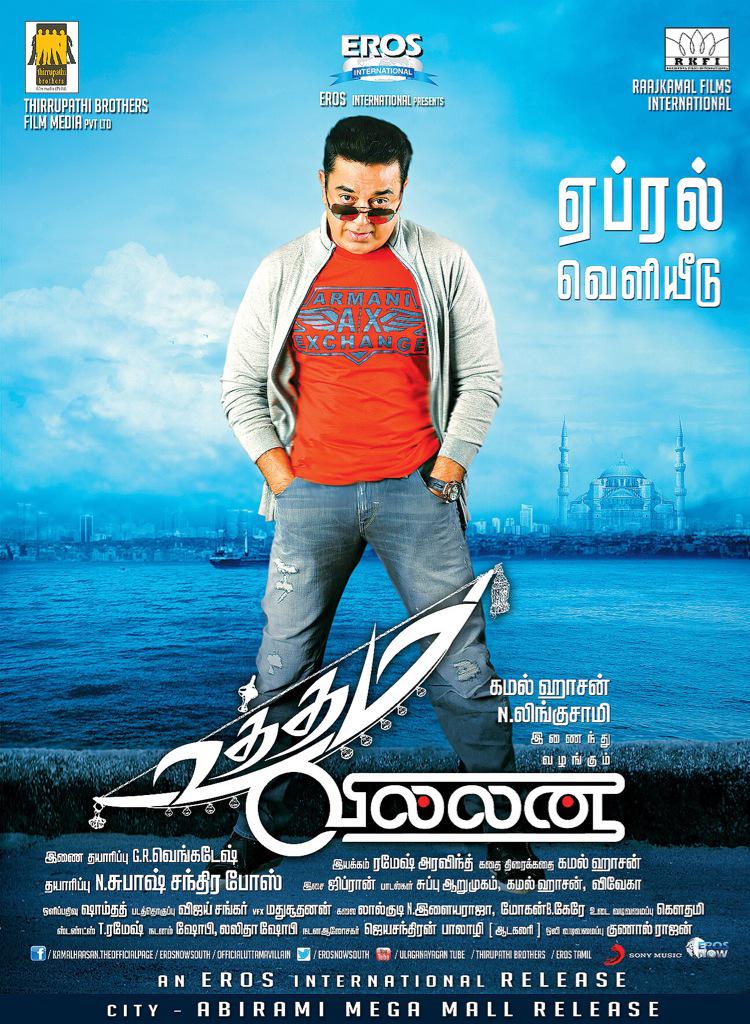 Not many have watched the much-awaited "Uttama Villain", starring Kamal Haasan, before its release on 1 May. Actress and politician Khushboo Sundar is one of the few privileged ones who had the chance of watching "Uttama Villain" with Kamal Haasan at the special screening.
The actress took to her Twitter handle to share the excitement of watching the movie. She recalled that she was so stunned by the visuals, dialogues, and performances in the movie that she went and touched Ulaganayagan's feet at the end of the show.
The actress said that "Uttama Villain" is something that the Tamil industry has never seen before and it is a soul-stirring movie. Apparently, Khushboo was moved to tears when she saw late legendary filmmaker K Balachander on-screen and called it the best role of the late legend.
With the response which the movie has got from the special screening, the expectations regarding the movie has gone sky high. The movie reportedly is going to be released in record number of theatres and the industry is awaiting yet another huge opening at the box office from Kamal Haasan.
[Read 'Uttama Villain': Five Reasons Why Kamal Haasan Starrer May be a Box Office Hit]
Directed by Ramesh Aravind, "Uttama Villain" has an impressive star cast of Vishwanthanan, Jayaram, Andrea Jeremiah, Pooja Kumar, Urvashi, Parvathy Nair, Parvathi Menon, Nassar, MS Bhaskar, Chithra Lakshmanan, Ananth Mahadevan, and Shanmugarajan.
UTTHAMA VILLAIN..had the privilege 2 watch the film along with #Kamalsir last eve..stunned at the visuals..dialogues..performances..

— khushbusundar (@khushsundar) April 30, 2015
For once at once for words..#UTTAMAVILLAIN..tamil cinema has not witnessed anything like this before. .its a soul stirring movie.. — khushbusundar (@khushsundar) April 30, 2015
Why we call #KAMALHASSAN the master is once again clearly visible..Every frame he is in just lights up the screen..His eyes speaks volumes.

— khushbusundar (@khushsundar) April 30, 2015
#Nasser,#Poojakumar #Oorvasi #Andrea #MSBhaskar..every1 in the film have done something dey have never done before..u feel dem as u see dem. — khushbusundar (@khushsundar) April 30, 2015
The great #KB Sir brings tears of joy as u see him playing the best role..i sobbed all thru the film as I saw him on screen..so emotional.

— khushbusundar (@khushsundar) April 30, 2015
I was so stunned in the end tat all I did was touched the feet of the greatest actor of our times #Ulaganayagan my superhero #Kamalhassan. — khushbusundar (@khushsundar) April 30, 2015
Related
'Uttama Villain': Five Reasons Why Kamal Haasan Starrer May be a Box Office Hit
Dileep, Kavya Madhavan, Kunchacko Boban to Lock Horns on May Day
'Uttama Villain' Box Office Collection: Can Kamal Haasan Starrer Beat 'Lingaa', 'I', 'Kaththi', 'Yennai Arindhaal' Records?
Kamal Haasan and Shruthi Haasan to Lock Horns at Box Office