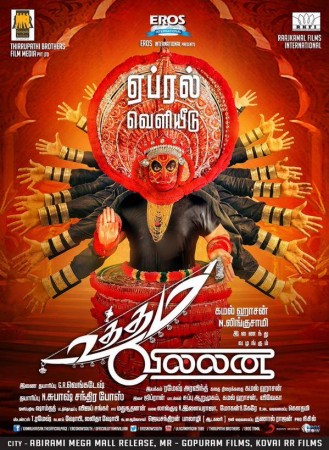 "Uttama Villain", starring Kamal Haasan and directed by Ramesh Aravind, will release on 1 May. The huge expectation and the pre-release buzz over the film have made way for an overwhelming rush for advance booking of the flick.
"Uttama Villain", which is a comedy drama, is being touted as the most iconic flick of Kamal Haasan.
Here we are listing five major reasons why we think that "Uttama Villain" will be a success at the box office:
'Ulaganayagan' is definitely the most important reason why audience would go to the theatres to watch the first day first show. In the movie, Kamal Haasan will play various roles. Kamal would play two lead characters, Uttaman and Manoranjan.
Moreover, the story of "Uttama Villain" is written by Kamal Haasan, who has also sang songs, wrote lyrics, choreographed dance moves, and is one of the producers of this big budget movie.
Another reason that will make "Uttama Villain" an unforgettable movie is the presence of late legendary filmmaker K Balachander. The legendary film personality, who was close to Kamal, has reportedly played the role of a guide to the superstar in the movie.
In fact, the film is expected to throw light on the special bond that Ulaganayagan shared with his guide.
Ghibran's music is definitely one of the major highlights of the movie. Since its audio launch, all songs of "Uttama Villain" album has topped in all musical charts. With 17 tracks, the album is seen by critics as one of the best in the Tamil industry in recent times. It has seven songs, seven original sound tracks and three karaoke.
Kamal Haasan has contributed to the album singing six songs and writing lyrics for five songs. The other singers include Padmalatha, Sharanya Gopinath, Anitha, Nivas, Subbu Arumugam, and Rukmini Ashok Kumar.
Besides Kamal Haasan, lyrics for te songs was penned down by Viveka and Subbu Arumugam.
Another major highlight of the movie is its huge star cast. Director of the movie Ramesh Aravind has chosen an impressive list of actors, which includes Vishwanthana Jayaram, Andrea Jeremiah, Pooja Kumar, Urvashi, Parvathy Nair, Parvathi Menon, Nassar, MS Bhaskar, Chithra Lakshmanan, Ananth Mahadevan, and Shanmugarajan.
"Uttama Villain" is a comedy drama flick and director Ramesh Aravind will reportedly narrate two stories parallely. The film talks about the life of an 8th century drama artist (Uthaman) and a 21st century filmstar (Manoranjan).