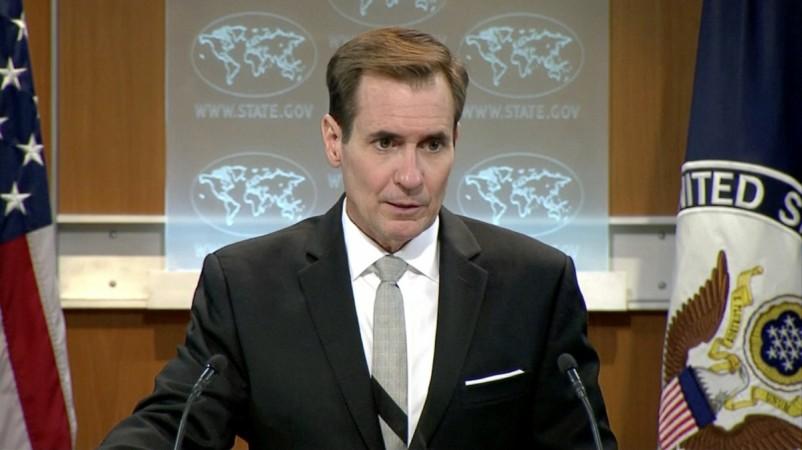 The United States has issued a fresh warning to Pakistan to go after the plotters of the 26/11 terror attacks and also shut terror camps that are running from its soil, just a day after Jamaat-ud-Dawa (JuD) leader Hafiz Saeed said the US was Pakistan's biggest enemy.
Saeed, on whose head the United States has put a $10-million bounty, has been proscribed by the country, as has been the Lashkar-e-Taiba (LeT) terror group, which he founded. Saeed also happens to be the mastermind of the November 2008 terror attacks in Mumbai, that led to the death of more than 160 people.
US State Department spokesman John Kirby has said: "We continue to urge Pakistan to take steps to shut down access to areas inside their borders to terrorists, terrorist individuals and groups. As I've said before, we continue to want to see perpetrators of Mumbai attack brought to justice." He added: "I'm not going to dignify comments of an avowed terrorist one way or other."
That comment by Kirby was in reply to what Saeed had said a day ago. He had said that the United States was the real enemy of Pakistan, but that had not put hindrances in his way. "There is a bounty worth crores on me, but in the last five years the US could not achieve anything out of it," he had said.
On a similar vein, he had remarked earlier: "Many times I have been arrested on the order of America and India. (But) The Lahore high court freed me and also my organisation saying we were innocent of terrorism charges and did not participate in any terrorist activities."
Saeed is also believed to be running several terror camps in the country, with help from sections of the Pakistan military establishment and the country's spy agency, Inter-Services Intelligence (ISI).