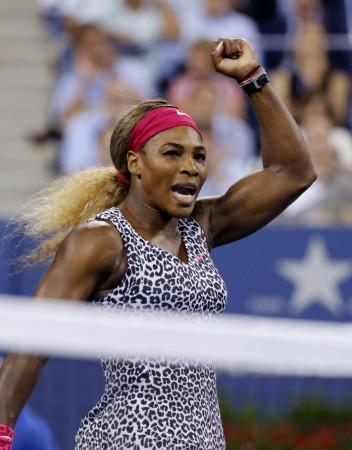 The US Open Women's singles saw world number one Serena Williams advance to the semifinals on Wednesday.
American Williams beat Flavia Pennetta of Italy 6-3, 6-2 comprehensively in the quarterfinals. The American shrugged off an indifferent beginning, before she came into her own in the match as she ended up victorious in only a matter of 63 minutes.
In the opening set, Williams saw herself concede a 3-0 lead to her Italian opponent. It was after this she put things together and dominated the encounter.
"I don't feel like I was doing too much wrong. So I said, 'If she keeps it up, she absolutely deserves the win.' And I just tried to do a little better," ABC Sport quoted Williams as saying about the troubling start.
Williams, the defending champion, after the indifferent start clinically disposed off her opponent. The defending champion simply blew Pennetta away, racking up no less than 31 winners in the match.
In the second set, Pennetta did put up a bit of a fight as at one point the score was 2-2, but thereafter Williams took control again.
Serena had had a tough time this year as she has failed to go make it to the semifinals of any of the three previous Grand Slams. There was simply no way she was going to take her Italian opponent lightly.
"Well, honestly, I've had a tough year in the majors. So you can never underestimate anyone," Williams said.
She quite understandably appeared elated with this victory as she made it clear that he US Open had a special place in her heart.
"It feels so special to be back in the semifinals for the first time this year. It's an unbelievable feeling. I'm so happy to have done it here," Williams added.
Williams will go up against Ekaterina Makarova of Russia in the semifinals. The Russian beat Victoria Azarenka of Belarus 6-4, 6-2 in the quarterfinals.
This is the first time Makarova has made it to the semifinals of a Grand Slam. She came across as pleased as punch following the victory over the two-time Grand Slam champion.
"It's amazing. Finally I'm in a semifinal after five chances before. Today it was a different feeling. I really wanted to move forward," said Makarova.