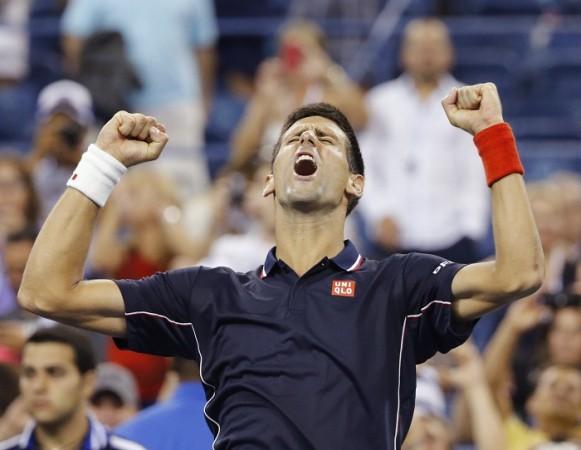 It was physical, it was brutal and it was heart-thumping tennis of the highest order. In the end, the man with the better fitness came out trumps as Novak Djokovic, for the eighth straight time, entered the semifinals of the US Open courtesy a punishing 7-6 (1), 6-7 (1), 6-2, 6-4 victory over his great rival Andy Murray.
These two superstars of modern tennis generally don't meet in the quarterfinal stage, and at the Arthur Ashe Stadium in New York, under a brilliant night, the two showmen played a match worthy of the US Open final.
The difference proved to be Djokovic's ridiculous ability to just go on and on and on, with the same intensity, unrelenting. And for Murray, who has struggled with the heat in New York, the longer the match went, the quicker it slipped away, with Serbian running away with the final two sets to seal a tremendously impressive victory in three hours and 32 minutes.
"I knew coming into tonight's match that it's going to be tough, that he's going to go for his shots, and the more aggressive one would win it," Djokovic said. "I'm glad I managed to stay fit in the end and pull it through."
It was always going to be a physical battle, and so it proved to be right from the off, with the opening set, which lasted all of 73 minutes -- more than Serena Williams took to dispatch Flavia Pennetta in the earlier match – and brought out those oohs and aahs to the fore.
Djokovic, the world number one, prevailed in the opener, breezing his way in the tie-breaker after Murray lost his way a little. That first set, might just have made all the difference between victory and defeat for Murray, who has never beaten his fellow 27-year-old having lost the opening set.
However, Murray, at least, was not just going to slip into oblivion, and the second set highlighted the Scot's fighting abilities. Twice Djokovic broke Murray for a lead in the second set, and twice Murray clawed his way back, before showing too much power and finesse in the tie-breaker.
However, once that heat started to seep into Murray's body, Djokovic was revitalised and in the blink of an eye he had jumped into a lead in third set, a lead he would not relinquish.
Murray huffed and puffed, but there just was no energy left, with the Brit, at one point, telling his team in the player's box "Nothing in the legs."
"He was fresher toward the end," said a seriously downcast Murray, the 2012 US Open champion. "I tried to hang in as best I could."
Djokovic will now face Kei Nishikori in the semifinal, after the Japanese prevailed in his own marathon quarterfinal against Australian Open champion Stanislas Wawrinka.