Even as reactions for Serena Williams' uncharacteristic outburst in the US Open women's singles final are pouring in, a "racist" and "sexist" take on the much-talked-about row in an Australian newspaper has created a stir.
Australian cartoonist Mark Knight is facing flak from people all over the world for his latest sketch on Williams' outburst at a chair umpire during her straight-set defeat to Naomi Osaka on Saturday.
In his cartoon for a leading Australian daily, Knight has portrayed a fat-lipped Williams smashing her racket and jumping in frustration while Osaka and the under-fire chair umpire Carlos Ramos have a discussion at the other side of the net.
The umpire, according to the cartoon is seen telling Osaka: "Can't you just let her win?"
Popular author JK Rowling was one of the many prominent figures who has blasted Knight for his work.
Well done on reducing one of the greatest sportswomen alive to racist and sexist tropes and turning a second great sportswoman into a faceless prop. https://t.co/YOxVMuTXEC

— J.K. Rowling (@jk_rowling) September 10, 2018
More reactions
I would say delete this, but this display of racism is so blatant in the year 2018 that it belongs in a museum to raise awareness to future generations about what African-Americans are going through today.

— Eugene Gu, MD (@eugenegu) September 10, 2018
You manage to be racist on several different levels here, not only in how you depict Serena, but also in erasing Naomi into a skinny blonde. Impressively shitty work.

— Ian Rose (@ianrosewrites) September 10, 2018
This cartoon is so disrespectful and disparaging. Sure make Serena out to seem like a monster and have Osaka (w/ blond hair) looking demure by the ref. The racism is so apparent in this one it's not even funny.

— Peter-John (@ipeterjohn) September 11, 2018
Nonetheless, Knight himself took to Twitter to deny claims of sexism and pointed out that he had criticised Nick Kyrgios when the mercurial Australian player was involved in a controversy during the US Open clash against Pierre Hugues-Herbert.
Well Julie here's a cartoon I drew a few days before when Australian male tennis player Kyrgios at the US Open was behaving badly. Don't bring gender into it when it's all about behaviour. I'll accept your apology in writing? pic.twitter.com/NLV0AjPGsY

— Mark Knight (@Knightcartoons) September 10, 2018
What happened at the US Open final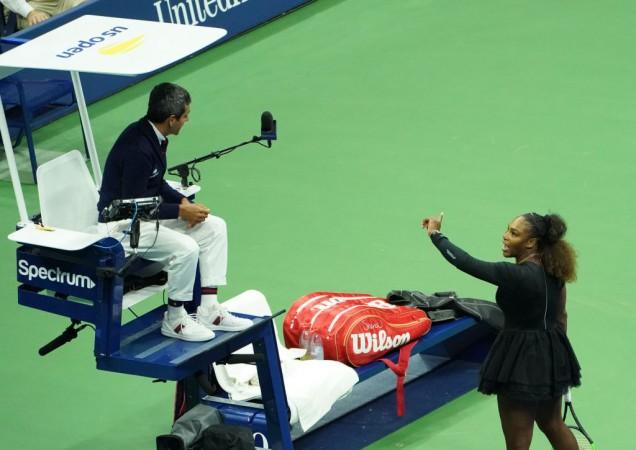 Notably, Williams had called Ramos a "thief" after the seasoned chair umpire handed her three code violations during the controversial final.
The 35-year-old, who was unsuccessful in her bid to emulate Margaret Court's all-time record of 24 Grand Slam titles, was accused of receiving coaching during the second set.
She was handed her second code violation for smashing her racket while the third one, a game penalty, came after her tirade umpire.
Williams had said it was "sexist" to have been penalised a game in the second set. She argued by saying she had seen men say worse things to chair umpires and escape punishment.
Amid all the chaos at the Arthur Ashe Stadium, 20-year-old Osaka had held her composure and closed out the match — 6-2, 6-4 and win her maiden Grand Slam title at one of the biggest stages of tennis.