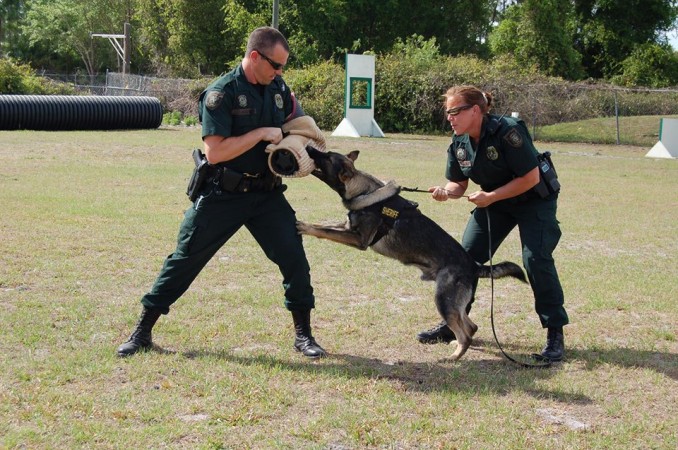 The Volusia County Sheriff's Office has said that one of its K-9s was killed in action while helping the police chase down a man. The suspect they were hunting down was described by the Sheriff's office as a "wanted fugitive," and the police dog, identified as Forrest, is believed to have died due to injuries sustained from bullets fired by the unidentified suspect.
Soon after news of the canine's death spread, Twitter was flooded with messages of condolence and commiseration over the incident. It now remains to be seen whether Forrest will get a funeral with full honours, as had been the case with Oklahoma City canine officer Kye in August 2014 after he was stabbed to death while trying to stop a burglary.
The Volusia County Sheriff's Office, in a Facebook post, gave out the whole story about Forrest. It said: "A Volusia County Sheriff's Office K-9 suffered a fatal gunshot [on] Tuesday evening after chasing down an armed suspect who fled and fired at deputies in Deltona. K-9 Forrest was rushed to DeLand Animal Hospital following the shooting but couldn't be saved. Forrest was shot at about 7:16 pm near Vann Park after the suspect opened fire on deputies who were searching for him in a wooded area." It may be noted that Volusia falls under the Easter Time Zone: UTC-5:00.
The suspect had already eluded the police multiple times, riding away recklessly in a white dirt bike, which he subsequently abandoned. However, when the police received word that he was apparently holed up in a house, they reached the spot and began contacting the others in the building so that they could be evacuated.
The sheriff's office said in the Facebook post: "Deputies set up a perimeter, and the Sheriff's Office Air One helicopter spotted the suspect in a nearby wooded area. K-9 Forrest had started tracking to him when the suspect opened fire, prompting both deputies to return fire." It was in this firing that Forrest was injured, and later succumbed.
The post further said: "As of 9 am [on] Wednesday, the suspect was still surrounded by law enforcement in the area of Vann Park. Additional updates will be provided as they become available."