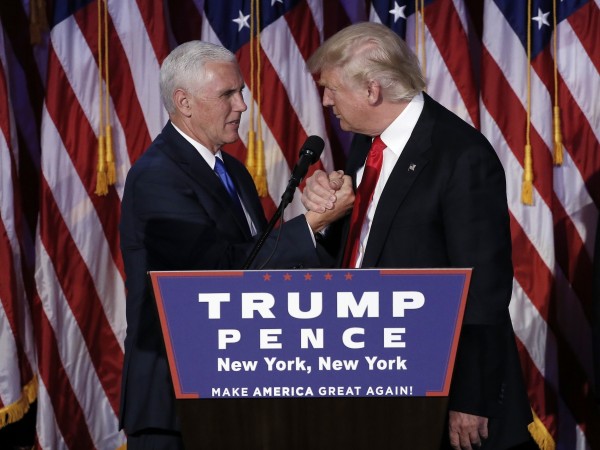 Republican presidential candidate Donald Trump, who is all set to replace Barack Obama as the next president of the United States, has given a speech at the Trump headquarters in New York.
3:38 am EST: Prime Minister Narendra Modi congratulates Donald Trump on Twitter:
"Congratulations @realDonaldTrump on being elected as the 45th US President. We appreciate the friendship you have articulated towards India during your campaign. We look forward to working with you closely to take India-US bilateral ties to a new height."
3:12 am EST: Republican nominee for the president of the US Ted Cruz congratulates Trump on being elected as the President: "I congratulate President-elect Trump on an amazing victory for the American worker."
3:09 am EST: House Speaker Paul Ryan calls Trump victory 'a repudiation of the status quo of failed liberal progressive policies', tweets the Associated Press.
"I want to congratulate Donald Trump on his incredible victory... We are eager to work hand-in-hand with the new administration to advance an agenda to improve the loives of the American people. This has been a great night for our party, and now we must turn our focus on bringing the country together," Paul Ryan said in his statement following Trump's win.
Meanwhile, Egyptian President Abdel Fattah el-Sisi calls Donald Trump to congratulate him on being elected the 45th President of the United States of America.
3:08 am EST: Donald trump ends his speech and leaves the stage.
3:06 am EST: Trump thanks the secret service and the New York City law enforcement.
"It's been what they call an historic campaign. But to be really historic, you have to do a great job. And I promise you that we will not let you down. We will do a great job.
"While the campaign is over, our work on this movement is really only just beginning.
"We're going to be doing a job that hopefully you'll be so proud of your president. It's been an amazing honor... And I love this country. Thank you. Thank you very much."
3 am EST: Donald Trump goes on thank his family and others who supported him in this election.
"I want to thank my parents who I know are looking down on me right now. I have learnt so much from them... And my brother Robert, my great friend. And also my late brother Fred... To Melania and Ivanka and Eric and Tiffany and Barron. I love you and thank you and especially for putting up with all of those hours... This political stuff is nasty and it is tough... Thank you so much..
You all have given me incredible support."
2:58 am EST: Trump says that he would deal with all nations in a fair manner.
"We will double our growth and have the strongest economy in the world. At the same time, we will get along with all other nations willing to get along with us.
"America will no longer settle for anything less than the best. We must reclaim our country's destiny, and dream big, and bold and daring.
"I want to tell the world community that while we will always put America's interests first, we will deal fairly with everyone."
2:56 am EST: Trump addresses the crowd at the Hilton.
"Working together, we will begin the urgent task of rebuilding our nation," he says. "I've gotten to know our country so well. Tremendous potential... every single American will have the ability to realize his or her potential...
"We are going to fix our inner cities... we're gonna rebuild our infrastructure, which will become by the way second to none. And we're going to put millions of people to work as we rebuild it.
"We will finally take care of our great veterans."
2:55 am EST: Trump addresses the crowd.
"Now it's time for America to bind the wounds of division... I says it is time for us to come together as one united people.
I pledge to every citizen of our land that I will be president for all Americans, and this is so important for me.
For those who have chosen not to support me... I'm reaching out to you for your guidance and your help so that we can work together to unify our great country."
2:54 am EST: "I just received a call from secretary Clinton. She congratulated us, it's about us, on our victory, and I congratulated her and her family on a very very hard fought campaign. She fought it very well. Hillary has worked very long and very hard over a long period of time, and we owe her a major debt of gratitude to our country," Trump says.
2:50 am EST: "Thank you very much. Sorry to keep you waiting, complicated business," Donald Trump addresses his supporters after being elected president. He is accompanied by his wife Melania and youngest son Barron.
2:48 am EST: "But most of all I am grateful to the American people and our next president Donald Trump... The American people have spoken and the American people have elected their new champion," Pence addresses the crowd.
2:45 am EST: Vice presidential candidate Mike Pence addresses supporters: "This is a historic night... America has elected its next president... It will be an honour to serve as your vice president... I am grateful to my family."
2:40 am EST: Democratic candidate calls Donald Trump to concede the race. It seems as if that's the green light for Trump to become the next president.
2:33 am EST: Donald Trump has been elected the President of the United States of America, according to the Associated Press.
BREAKING: Donald Trump is elected president of the United States. pic.twitter.com/OIJcRFNOGY

— AP Politics (@AP_Politics) November 9, 2016
2:18 am EST: Donald Trump arrives at the Hilton in New York.
2:10 am EST:
Trump crowd chanting "Lock her up!" to the press pen. pic.twitter.com/en4Rn7T6F2

— Katherine Faulders (@KFaulders) November 9, 2016
2:05 am EST: John Podesta addressed Clinton's supporters at the Clinton headquarters: "We are so proud of her. She has done an amazing job and she is not done yet." Meanwhile, Democratic candidate Hillary Clinton will not be speaking tonight, according to media reports.
2 am EST: "We can wait a little longer - can't we? They're still counting votes and every vote should count," Campaign Chairman John Podesta says while addressing Clinton supporters.
7 pm EST:
#CakePressConference pic.twitter.com/pIyT1fKIqL — Katherine Faulders (@KFaulders) November 9, 2016