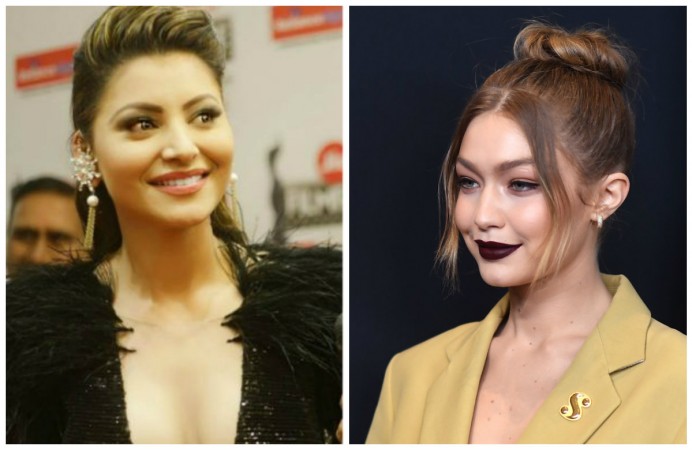 Urvashi Rautela took to Instagram to apologise on behalf of her team for the recent blunder of copying fashion model Gigi Hadid's social media post.
Urvashi shared an Instagram story in which she apologised on behalf of her social media content creator, saying that she feels "terrible" for the goof-up.
"I'd like to apologize wholeheartedly on behalf of my chief content writer/litterateur/biographer (due to his super hectic schedule) as he had no idea about @gigihadid. I extend my sincere apologies to my Instagram family. I feel terrible for this huge mistake [sic]," she wrote.
It so happened that Urvashi was recently spotted with Ahaan Pandey, and seeing the paparazzi, the actress had made a hush-hush exit without letting the media click her pictures. This had irked the lens-men as it was her PR team itself which had reportedly informed the press about Urvashi's apparent date.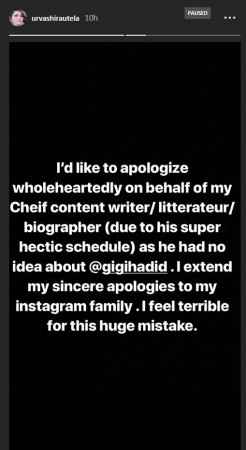 After the media criticised the Hate Story 4 actress calling it a publicity gimmick, a post was made on her Instagram, counter slamming the media.
"Seems like u guys tag me in a new post every day ... pls stop.. it's just negative, I really have no hard feelings towards you I just know what a beautiful world there is to go out and live in instead of trying to dissect something that you don't even know and that you do not see 99% of. The energy you put into this does not serve your life in any way ...truly 'beating a dead horse. You guys can call it publicity gimmick. There's nothing to figure out all the time... give it a break. this is my last comment on this matter but I hope u know it's not coming from a bad place, just would love for you to find something else that inspires you in life.... X [sic]," read the post.
Soon, it caught everyone's attention that the post was almost identical to one of Gigi Hadid's recent post.
It was apparent that the lines were copy-pasted, and this had led to massive trolling for Urvashi.
However, later it was revealed that she was unaware about her PR team's aggressive publicity act. It was said that Urvashi had decided to change her current PR and social media team.