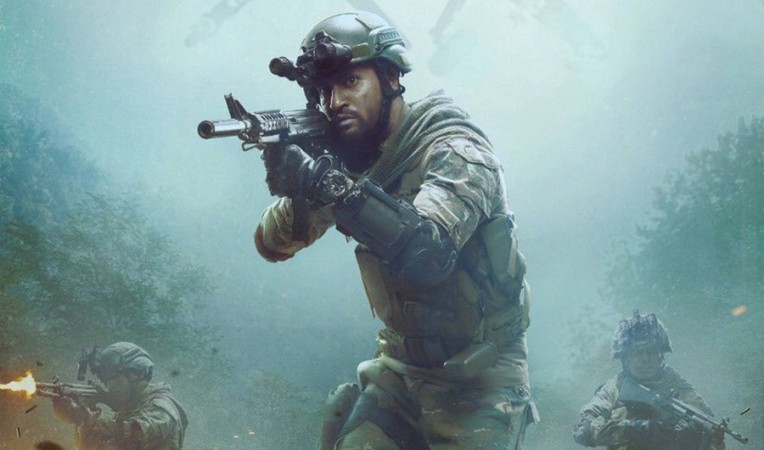 Ahead of the movie release, the makers of URI - The Surgical Strike organized a special screening for their family and close friends and viewers have already given their verdict on it.
The film is based on the 2016 surgical strikes conducted by the Indian Army in retaliation to the terror attack in the Kashmir region of Uri where 19 soldiers had lost their lives. Produced by RSVP movies and directed by Aditya Dhar, the film has Vicky Kaushal, Yami Gautam and Paresh Rawal in pivotal roles.
The movie, however, has received mixed reviews but mostly have been positive so far. While some saw the movie as a story of utmost courage and honour with a captivating screenplay, some found it as a descent watch having glaring political inclinations.
Take a look.
This is the perfect mnemonic of surgical strike -The sinews are intensified on our new India where "Ghus ke marenge " is our latest tete-a-tete and answer to enemies .Captivating screenplay that will hold you on your seats easily throughout the film #UriTheSurgicalStrike (1/2).

— Rahul verma (@RahulVerma4860) January 10, 2019
It's been great time to witness #UriTheSurgicalStrike premiere yesterday, @vickykaushal09 amd @yamigautam, You guys are really amazing !!All the best Team @RSVPMovies @RonnieScrewvala pic.twitter.com/GsiOTLQD2E — Vishal Deshmukh (@vishalgdeshmukh) January 10, 2019
#UriTheSurgicalStrike is just fab. Can't get over it. Might watch it again this weekend. @vickykaushal09 @mohituraina are brilliant. @yamigautam makes you fall in love with the badass yet beautiful agent that she portrays and last but not the least you want to yell High Sir!!

— Sahil Tiwary (@saleswalaladka) January 10, 2019
I loved #URITheSurgicalStrike what a film! It's gripping, it has several moments to make you cry and then to boil your blood. It's indeed a great start of 2019. @vickykaushal09 is Mind blowing. @mohituraina makes a superb debut. Welcome back to movies sir @RonnieScrewvala — Raghuvendra Singh (@raghuvendras) January 9, 2019
#URITheSurgicalStrike movie review. For the most part, it's a fairly decent watch, but the glaring political inclinations and the timing of the release of the film is just hard to miss. https://t.co/aIksTZLa5X pic.twitter.com/gDWvqq7RJy

— Lakshana Palat (@lakshanapalat) January 9, 2019
Right now watching #UriTheSurgicalStrike in #Dubai seems like many important dialogue were cut. Very good watch till now. @vickykaushal09 @mohituraina are amazing.. — MuVFever (@fever_mu) January 10, 2019
.@vickykaushal09 saw u, @yamigautam, @RonnieScrewvala, #Adityadhar and #URITheSurgicalStrike last night at PVR Juhu. Just one thing comes to my mind, "Josh is high sir". Loved the movie. Amazing performance! Congrats to the team. This is a Super Duper Hit movie. #JaiHind

— Avinash Batheja (@avinashbatheja) January 9, 2019