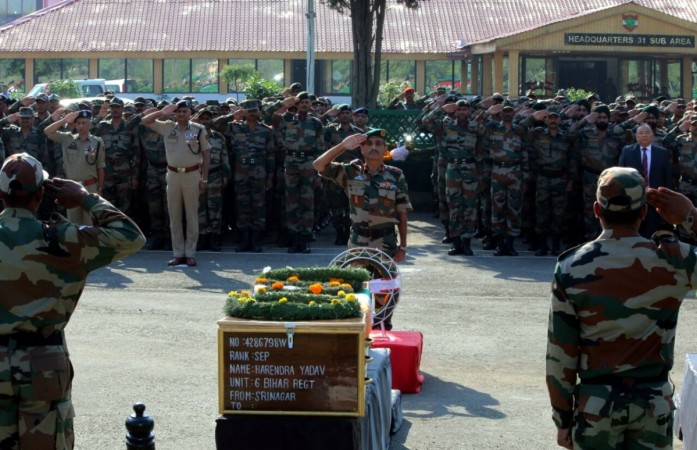 Uri Brigade Commander K Somashanker has been shifted out until the inquiry into the July 8 attacks is completed. This is being done to facilitate an unbiased inquiry into the attack.
The move comes after 19 soldiers died when terrorists infiltrated the Line of Control (LoC) and opened fire on a camp at the Army Brigade Headquarters in the Uri district of Jammu and Kashmir.
Colonel GS of Kilo Force SP Ahalawa has reportedly taken over as the new brigade commander of the 12th Uri brigade. He was recently promoted as brigadier.
Shanker will remain at the Uri Brigade till the process of handing over charge to the new Brigade commander is completed.
The National Investigation Agency had earlier said that it found little hard proof to link the terror attack with any Pakistani jihadist group. Weapons that were recovered from the terrorists had no military markings linking it to Pakistan, but other objects like syringes, food packets and painkillers were from the neighbouring country.
The investigation revealed that most deaths happened in a cook-house and store room that was locked and burned down by terrorists with soldiers trapped inside. The agency said that the terrorists might have spent at least a day in the mountains to observe the camp before attacking it.
The NIA also took DNA samples of the terrorists for future use. Two GPS devices were also recovered, out of which one was damaged. The other one was handed over to the National Technical Research Organisation (NTRO) engineers for investigation.
Meanwhile Jamaat-ud-Dawa Chief Hafiz Saeed on Friday claimed that the Kashmiri mujahideens had attacked the army camp in Uri claiming the lives of around 177 Indian Army soldiers and not just 20 as claimed by the Indian government.
Army Chief Dalbir Singh reached Jammu and Kashmir on Saturday to review the border security situation.