North Korea has been on the international radar for a while now and it garnered more attention after it tested a hydrogen bomb on Sunday, September 3. Keeping this and its other nuclear programmes in mind, the United Nations Security Council on Monday imposed new sanctions on Pyongyang.
In a decision backed by China and Russia, the UNSC has put a ban on textile exports and has also restricted the shipment of oil products. This is likely to hit the funding of its nuclear programmes. The US-drafted sanctions received a 15-0 vote and this is the ninth resolution adopted by the UN since the year 2006.
Ever wondered what the city of Pyongyang looks like? See it through the eyes of photographer Aram Pan
US Ambassador Nikki Haley welcomed the sanctions and said that this was a message to the recluse nation that "the world will never accept a nuclear-armed North Korea." However, she also clarified that the US wants a peaceful resolution to this conflict and doesn't want to go to war with Pyongyang, which is quite a contrast from her earlier stand when she had said the North Korea was "begging for war."
"We are not looking for war. The North Korean regime has not yet passed the point of no-return," AFP quoted Haley as saying. "If it agrees to stop its nuclear program, it can reclaim its future. If it proves it can live in peace, the world will live in peace with it. If North Korea continues its dangerous path, we will continue with further pressure. The choice is theirs."
The US had initially proposed a complete oil embargo and also said that the foreign accounts of North Korean leader Kim Jong-un should be frozen. However, these proposals were dropped later.
Apart from the oil and textile ban, the sanctions have also put a ceiling on the deliveries of refined oil products to Pyongyang and also limit crude oil shipments to the current level. Additionally, other countries now cannot issue work permits to North Korean labourers and firms cannot indulge in joint ventures with the nation either. The names of a few North Korean officials have also been added to UN's blacklist, which results in the freezing of their assets abroad and a worldwide travel ban.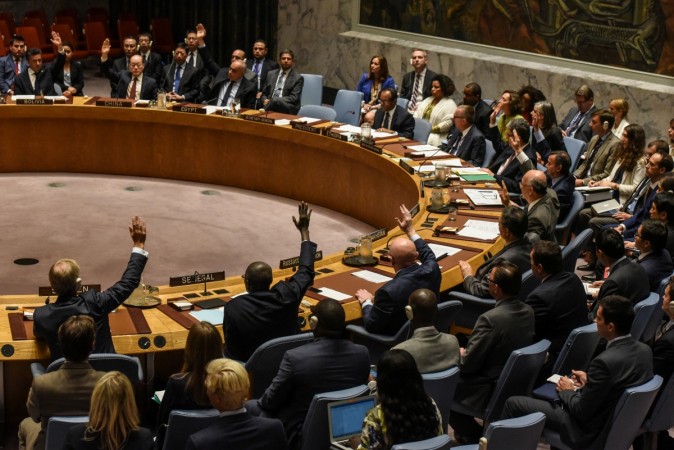 Apart from the US, China, and Russia, the sanctions have also been lauded by South Korea who said that these bans are a proof that Pyongyang's defiance will continue isolating it from other nations.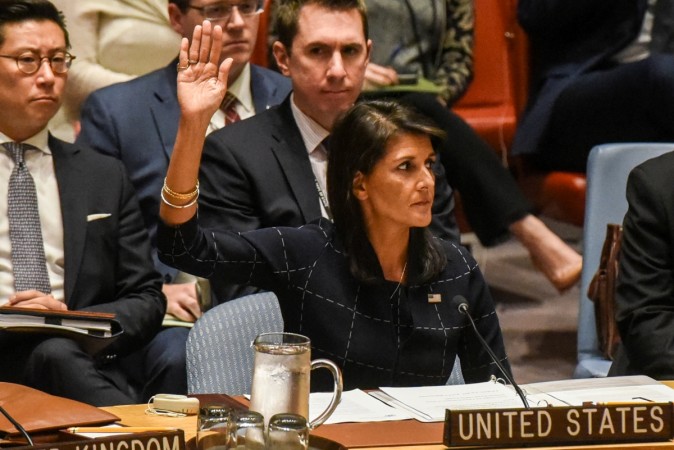 While China and Russia may have backed these sanctions, it has urged countries to carry out a dialogue with Pyongyang so that the matter is resolved. Chinese envoy Liu Jieyi said that the US must not try and change the situation by using military force and that "China will continue to advance dialogue," reported the New York Times.
Echoing China's thoughts, Russian Envoy Vassily A Nebenzia said that ignoring China and Russia proposal for dialogue would be "a big mistake" and they "insist" that it be considered.
Meanwhile, ahead of the sanctions, Pyongyang has warned Washington that if harsh sanctions are imposed on North Korea, the US would have to pay a "due price" for it. The foreign ministry had said that if the US "does rig up the illegal and unlawful 'resolution,'" it will have to face consequences.
"The DPRK is ready and willing to use any form of ultimate means," Pyongyang said in a statement, according to CNN. "The forthcoming measures to be taken by the DPRK will cause the US the greatest pain and suffering it had ever gone through in its entire history."