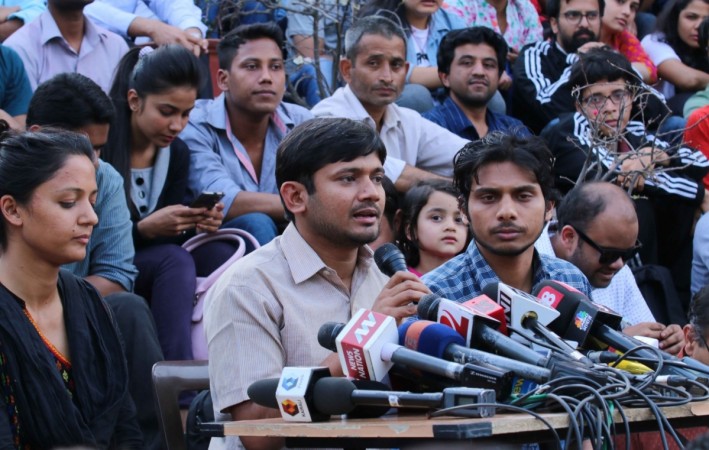 "It is unlikely for me to travel to West Bengal and Kerala to campaign for the upcoming Assembly elections," Jawaharlal Nehru University Students' Union (JNUSU) president Kanhaiya Kumar said Wednesday. Kumar said he does not wish to enter mainstream politics, but would like to continue activism.
"I have already said mainstream politics is not my calling. I am a student and want to be a teacher after I finish my PhD. However, I will continue with activism even then," Press Trust of India quoted the 29-year-old research scholar as saying.
"Two of my friends are still in jail. We have raised a whole lot of issues, ranging from the Rohith Vemula case to the Allahabad University row. There is so much to do for students that it is unlikely for me to take out so much time to travel for campaigning," he said.
Communist Party of India (Marxist) general secretary Sitaram Yechury had Friday said Kumar and all other students supporting the Left would participate in election campaigning in West Bengal.
However, he later retracted his statement, saying Kumar would not travel to the two states for campaigning.
"Kanhaiya won't travel to Kerala and Bengal to campaign for the upcoming Assembly polls. He is an endearing person and his speech is his campaign," Deccan Herald quoted Yechury as saying.
Kumar was arrested Feb. 12 on charges of sedition and criminal conspiracy for alleged anti-India sloganeering at a Feb. 9 event organised at the JNU campus on the third anniversary of the hanging of 2001 Parliament attack convict Afzal Guru.
Later, a forensic report of the seven videos of the Feb. 9 event showed two were doctored. The Delhi Police had also told the Delhi High Court Feb. 29 Kumar was not seen shouting anti-India slogans in the video that was used as a key evidence to slap sedition charges against him.
He was in judicial custody in Tihar jail before being released on six-month interim bail last Thursday. Two other JNU students — Umar Khalid and Anirban Bhattacharya — booked on sedition charges, were Wednesday sent to 14-day judicial custody in Tihar jail.