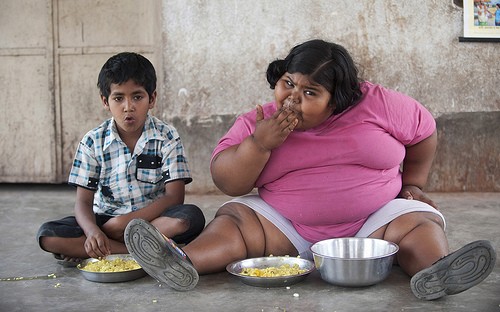 Obesity can kill you eight years early, says a new study.
Excess fat has long been known to cause early death. A July research had shown that people who were extremely obese died nearly 14 years early compared to their peers with normal weight.
In the new study, researchers found that the condition increased the risk of diabetes and cardiovascular diseases; and snatched away 20 healthy years from life.
The study included 4,000 individuals from the National Health and Nutrition Examination Survey.
Extreme obesity shortened life expectancy by eight years, while obesity and overweight reduced six and three years from a person's total life span.
Overweight and obese people lost about two to four additional healthy years than people with healthy weight. Intensity of these outcomes were seen at highest in those who piled on extra weight at an early age.
Body mass index (BMI) of 19 to 25 is considered to be ideal, while a BMI above 25 and 30 is taken as overweight and obese.
"The pattern is clear - the more an individual weighs and the younger their age, the greater the effect on their health," Dr. Steven Grover, a Clinical Epidemiologist at the RI-MUHC and a Professor of Medicine at McGill University, said in a news release. "In terms of life-expectancy, we feel being overweight is as bad as cigarette smoking."
Researchers said their findings will help motivate obese people to shed the excess fat. "These clinically meaningful calculations should prove useful for obese individuals and health professionals to better appreciate the scale of the problem and the substantial benefits of a healthier lifestyle including changes to diet and regular physical activity," Grover told The Independent.
Obesity- Know Other Health Risks
Nearly 2.1 billion people in the world are estimated to be obese.
Countless studies in the past have linked obesity to hearing loss, ovarian cancer, and dementia.
Additionally, according to CDC, obesity can also cause stroke, type 2 diabetes, heart disease, sleep apnea, infertility, hypertension, liver and gallbladder disease.
Last month, a study conducted by The International Agency for Research on Cancer of the World Health Organisation (WHO), attributed about half a million new cases of cancer -- 481,000 in 2012 -- to a high BMI.
Research has linked obesity to cancers of breast, uterus, kidney, thyroid, colon and rectum, endometrium, gallbladder, oesophageal and pancreatic cancer.