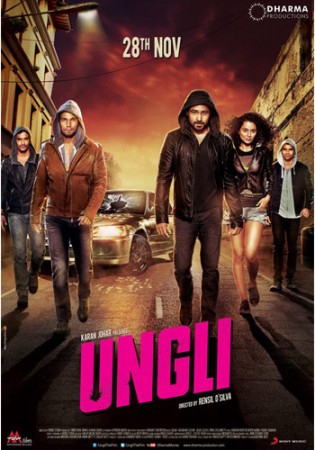 Karan Johar's latest production "Ungli", which was released in theatres on 28 November, has got positive response from the viewers, who are impressed with its message to the society.
Written and directed by Rensil D'Silva, "Ungli" deals with corruption, which is one of the biggest social evils of the present day.
Tired of corruption, a crime journalist, medical student, computer hardware specialist, garage owner and gym trainer form a gang called Ungli to fight the corrupt system. They adopt unlawful ways to correct the system. They kidnap corrupt police and other government officials and punish them.
The interesting story and brilliant screenplay are the main highlights of "Ungli". Emraan Hashmi, Kangna Ranaut, Randeep Hooda, Neil Bhoopalam, Angad Bedi and Sanjay Dutt have played lead roles and their performances are a major attraction for the film. The movie also scored good on technical elements, say the audience.
Here is the live update of "Ungli" review by viewers:
Faridoon Shahryar
Intention behind making #Ungli is honest but the long-in-the-making film looks dated,doesn't go 4 d kill in d end n isn't entertaining enuf!
Sachin Sharma
Just came after watching #UNGLI.great movie specially its climax.And the show stellar @emraanhashmi .I am 'फिदा' on his smile in the movie.
Rimpal Parmar
#Ungli deals with corruption in a very simplistic, superficial way & definitely worth a watch Film.
Mandira Bedi
Watched my dear friend, Rensil Dsilvas film, Ungli, last night. It was so well made and thought provoking. Cinema with a conscience.. #Ungli
Priya Srivastava
Ungli is perfect to soothe your mind which pops against corruption. One time watch!
Ritika Handoo
The acting ability of all the characters is well presented #Ungli Neha Dhupia plays her part quite well #Ungli. The storyline is strong. Different form of cinematic experience by Karan Johar production #Ungli
Bombay Times Managing Editor Priya Gupta
#Ungli has an interesting concept with good performances by Randeep Hooda & Neha Dhupia @RandeepHooda @NehaDhupia @karanjohar Loved the song 'Pakeezah' from #Ungli. Lovely composition & singing by Gulraj Singh
Janice Sequeira
Watched #Ungli. Great idea, interesting concept. The execution, not so much. Sad
Mohar Basu
#Ungli climax is most brilliant culmination I have seen in any of the recent films. @RensilDSilva you were smoking some great stuff
Dia Mirza
#Ungli releases this Friday! Watched it. Love it. Makes u want to join the Ungli gang. It stirs you, makes you laugh and warms your heart:) Be proud team #Ungli. Such a refreshing film! Go watch it everyone. I know I'm going to watch again :) @RensilDSilva @DharmaMovies
Always Bollywood
#Ungli review by #GulfCinema : 3½.... A must watch for the youngsters who want to get rid of corruption in the system...
Abhishek Sharma
Shraddha Kapoor is looking awful in DANCE BASANTI...she looks innocent..not an item number type. #Ungli #Bollywood
IBNLive Movies
It is interval, and there hasn't been a single boring moment in #Ungli. But we're not entirely sure of their methods of righting the wrongs.
AshmeetU
@UngliTheFilm @zmilap #Ungli awesome movie just brilliant dialogues. Great performances by the actors again going for the night show
Mohar Basu
@UngliTheFilm is a crisp, intelligent film by @RensilDSilva who uses his best writing with @zmilap giving a dialogue feast to relish. Woot! #Ungli climax is most brilliant culmination I have seen in any of the recent films. @RensilDSilva you were smoking some great stuff
Akram Khan
whoaa #Ungli first day 1st show. The movie is incomplete without @NehaDhupia . Great work done by u. A must watch movie.