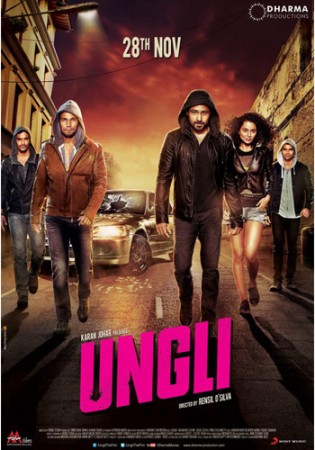 IBTimes India Rating: 1.5
While most people try and better their work as days pass by, director Rensil D'Silva must be among those few, who made an attempt to undo the right he did while penning the screenplay of cult film "Rang De Basanti".
A vigilante group comprising of five members – Nikhil (Emraan Hashmi), Maya (Kangana Ranaut), Abhay (Randeep Hooda), Goti (Neil Bhoopalam) and Kalim (Angad Bedi) – set out to right the wrong in their own way. Fed up with the system, the law benders decide to punish offenders by kidnapping and putting them through gruelling tasks. While at it, one of the groupies video-tapes every episode and releases for the news channels to flash them.
Predictable and contrived, the plot never raises the bar, constantly reminding one of Aamir Khan and his gang's many shenanigans in "RDB". The only exception here is its loosely executed narrative with very little or no thrill. The story comes with a good intention, but loses itself to unnecessary plot devices and some over-the-top melodrama.
The dialogues, by Milap Zaveri, meant to well up strong emotions, end up poking the funny bone. In which world "wise words" such as these - "Aasuon se sirf whisky dilute hoti hai" - are supposed to give a dejected man strength to pick himself and walk the path again?
Hashmi, as the undercover cop entrusted with the job of catching the on-the-run crusaders by ACP Ashok Kale (Sanjay Dutt) does okay. But, the audience has seen him flaunt the too-cool-for-school attitude far too many times to revel in what he delivers in this one. Ranaut shines as med intern, but has very little to offer to the script, whereas Hooda as a journalist is believable. Bhoopalam and Bedi's computer engineer and mechanic lend good support.
What could have been a welcome change from the potboilers Bollywood has been churning this year, "Ungli" disappoints with its fractured storyline. And what's a Hashmi film without a kiss. As inappropriate as this may read, the lead guy nuzzling up to his girlfriend against a tree is probably the only high point of the 115-minute-long crime comedy.