The fears surrounding the Yellowstone supervolcano erupting have been escalated by the discovery of an underwater "fountain" of magma. The column of hot volcanic ash, which is also known as a magma "plume," was found by researchers who believe it stretches all the way from Mexico.
This comes right after four mini-tremors in the area that occurred just last week, making the deadly eruption seem like not that far-fetched a possibility anymore.
Experts have also suggested that the plume could be the source of the heat that drives the volcano's surface level activities — specifically its world famous hot springs, Daily Mail Online reported.
These magma plumes are unusual geological features that exist in the boundary between Earth's core and mantle. They have the capability to rise through the mantle into the crust. Even though this is still a theory, their existence is supposed to be in the form of a vertical stem of magma.
The existence of one such magma plume beneath the Yellowstone National Park has been a topic of hot debate for decades now, but a certain new imaging technique used by two researchers at the University of Texas was able to suggest the existence of such a column of magma underneath the area.
The study analyzed seismic activity around Yellowstone using data gathered by the USArray network, via listening stations placed across North America. These readings helped the team discover a 45-by-34-square-mile channel (72x55 sq km) where seismic waves are slower.
The results suggest this "long, thin, sloping zone" is full of unusually warm materials and forms parts of the mantle plume that could possibly stretch from Mexico.
The mantle's temperature was also calculated to be hotter than any of its surroundings, specifically reaching around 600-800° Celsius (1,100-1,450°F).
This hot column might be the explanation behind increased volcanic activity in the park, believe researchers.
In their paper, the team of researchers led by University of Texas geologist Dr Peter Nelson wrote: "Our results strongly support a deep origin for the Yellowstone hotspot, and also provide evidence for the existence of thin thermal mantle plumes that are currently beyond the resolution of global tomography models."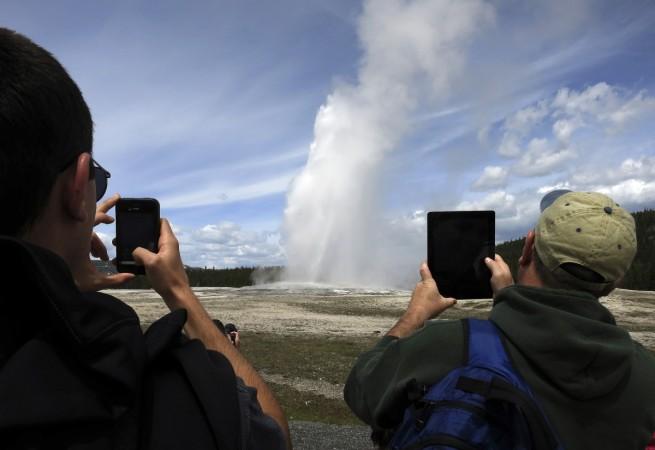 Recently, Yellowstone's Steamboat Geyser also erupted for the first time since September 2014, sparking further fears that maybe the supervolcano in the park is about to blow.
However, Tom Skilling, a meteorologist for WGN News, a local news site in Chicago, said: "Minor earthquakes occur in the Yellowstone area 50 or more times per week, but a major eruption is not expected in the foreseeable future."