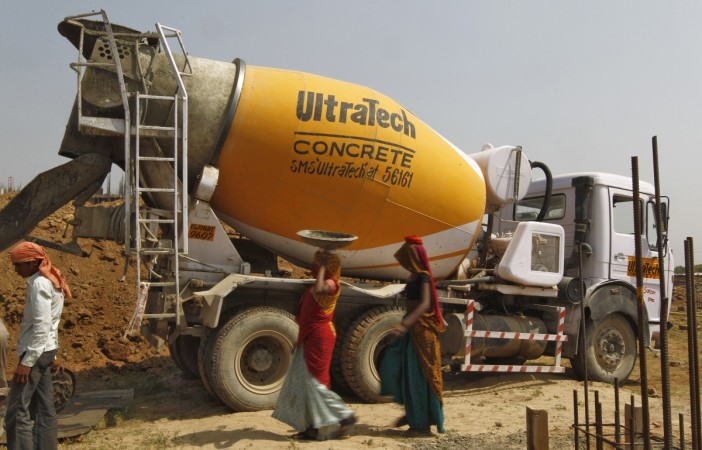 UltraTech Cement, India's biggest cement company, reported higher capacity utilisation of 84 percent for the fourth quarter ended March 2016, despite India's factory output contracting in January and recovering modestly in February. The Aditya Birla Group company filed its results for the quarter and financial year 2015-16 with the BSE on Monday.
However, shares of the company were trading 0.31 percent lower at Rs. 3,267.55 on Tuesday on the BSE at around 12.05 p.m.
Quarterly results
UltraTech Cement reported a 10 percent increase in consolidated net profit at Rs. 722.56 crore for the quarter as against Rs. 657.20 crore during the corresponding period last year on the back of 8 percent fall in total costs. Net sales rose 5 percent to Rs. 6,850.45 crore during the quarter as compared with Rs. 6,516.52 crore, year-on-year (YoY).
However, despite a 15 percent rise in volume sales to 13.20 million tonnes during the quarter, average realisation per tonne fell 9 percent to Rs. 4,609 per tonne, the company said in its regulatory filing.
Brokerage Angel Broking said the gains to the company from the uptick in cement prices should reflect from this year.
"Though cement prices started picking up from March 2016, the real impact of the same will be visible in the coming quarters and we believe earnings could improve further in financial year 2017," Siddharth Purohit, senior equity analyst with the brokerage, said in a note.
FY2016 performance
For financial year 2015-16, UltraTech Cement's net sales increased 5 percent to Rs. 25,281 crore and net profit rose 9 percent to Rs. 2,287 crore.
The earning per share (EPS) was Rs. 83.33, up 5 percent from the previous financial year. The company proposed a dividend of Rs.9.5 per share.
Acquisition
The company announced acquisition of Jaiprakash Associates Limited's 21.2 million tonnes per annum capacity cement plants for Rs. 15,900 crore. The process would be completed in about 12 months, it had said in a regulatory filing on March 31, 2016. The acquisition, when completed, will take UltraTech Cement's total capacity to 89.6 million tonnes per annum.
[1 lakh = 100,000 | 1 crore = 10 million | 100 crore = 1 billion]