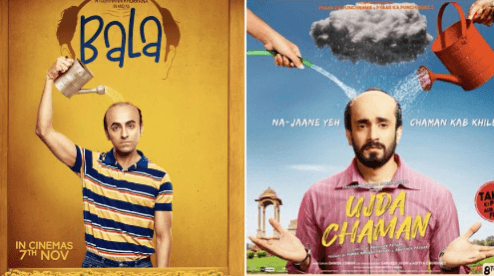 Two Hindi movies based on the same concept and releasing around the same time – doesn't it sound stupid? Well, that is what happening with Ayushmann Khurrana starrer Bala and Sunny Singh's Ujda Chaman.
Both Bala and Ujda Chaman deal with the concept of baldness and the issues associated with it. Trailer of the two movies are out, and there are quite many similarities between the duos apart from the very concept.
The trailer suggests both Ayushmann and Sunny will be seen playing teachers in their respective movies. Saurabh Shukla is a common factor in the two films. Trailers of both the movies conclude with scenes showing the lead characters having conversation of conducting hair transplant surgery with doctor. If that was not enough, even the latest posters of Bala and Ujda Chaman are almost identical.
With the same concept and so many similarities in the trailers, makers of the two movies decided to release their respective films around the same date. Bala is going to be released on November 7, and Ujda Chaman a day later.
Although trailers of both the films are interesting, it is Ayushmann's Bala which is likely to shine at the box office, crushing the other film. First, Ayushmann is a far bigger star than Sunny, and has a good fan following. With back to back hits like Badhaai Ho, Andhadhun, Dream Girl, Ayushmann is likely to attract much more audience than Sunny Singh.
Secondly, Bala is going to hit the screens a day before Ujda Chaman, which is again an advantage for the former. The audience who would go for Bala are less likely to watch Ujda Chaman as it is based on the same storyline.
While it makes sense for makers of Bala to release the film along with Ujda Chaman as they have Ayushmann on board, the same cannot be said for the other film.