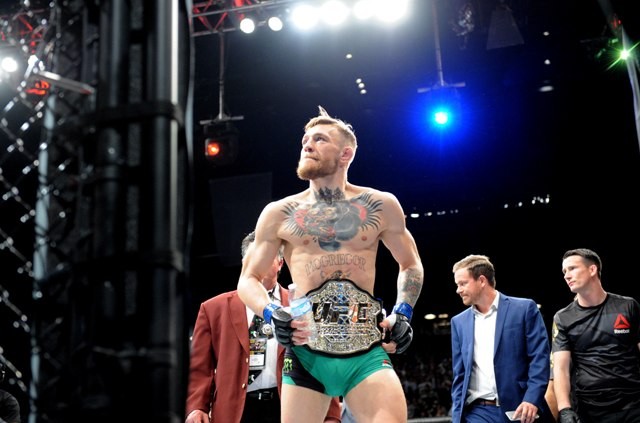 UFC President Dana White announced last week that the much-anticipated rematch between Conor McGregor and Nate Diaz in UFC 200 was cancelled. McGregor, however, might have revealed a twist in the plot on Monday.
The Irishman, in a tweet, has mentioned that the non-title welterweight fight between him and Diaz is very much on. "Happy to announce that I am BACK on UFC 200! Shout out to @danawhite and @lorenzofertitta on getting this one done for the fans. #Respect [sic]," the UFC featherweight champion tweeted.
White had claimed that McGregor's name was taken off the UFC 200 fight card, owing to the 27-year-old's refusal to attend media and promotional events ahead of the fight, which took place in Las Vegas last weekend.
"Anybody who has fought for the UFC over the last 16 years knows that we try to give as much leeway as we can," White was quoted as saying by the BBC during the media event. "But you have to show up to promote the fight. You have to show up to press conferences and shoot the commercials. It's part of the job. It's what we do here.
"We get criticised a lot for bending too much to Conor - and we do. I respect Conor very much as a fighter and I like him, but you have to show up and do this stuff."
McGregor, in a detailed facebook post, had mentioned that he wanted to focus solely on the fight, for which he was training in Iceland. "I am paid to fight. I am not yet paid to promote. I have become lost in the game of promotion and forgot about the art of fighting. [sic]," McGregor had posted.
The UFC Featherweight champion was also reportedly told that the UFC officials would be setting up a gym identical to his Iceland training centre and it would be ready for training as soon as he landed in Las Vegas.
For now, an official confirmation is awaited from the officials as to whether the UFC 200 headliner between McGregor and Diaz is indeed on. The Irishman had earlier also stated that he has decided to "retire young", before then coming out and announcing that he wasn't retiring.