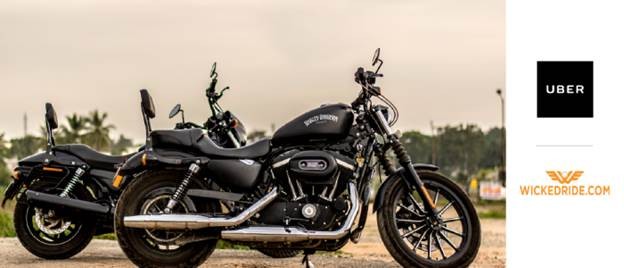 Uber announced a new superbike on-demand service on Friday in exclusive partnership with Wicked Ride, a motorcycle rentals company, which kicks off in Bengaluru on Saturday, May 14. The unique superbike experience will be offered for free to commuters requesting a test ride through Uber app between 12 noon and 4 p.m. on Saturday.
According to Uber, the royal bike rides will help commuters beat the busy traffic in Bengaluru on their "dream bike." The popular cab-hailing service said there will be Harleys and Kawasakis for commuters, but did not mention which models or if other brands will be offered in their test run on Saturday.
We contacted Uber to know if the superbike on-demand service will be offered regularly, and the company clarified saying it was not a new service launch and that it is just a one-off service exclusive only on Saturday, May 14.
Uber has integrated a new option for superbikes on-demand as Uber Wicked view within its app. For those who are willing to try out the free test ride of Uber Wicked, they can launch the app and slide over to Uber Wicked on Saturday between 12 and 4 p.m. Request a ride within the specified time window and a Wicked ride representative will show up at the doorstep upon getting a confirmation of booking.
But if you are planning to book a long ride, like from Whitefield to Silk board, you might be out of luck as there are some limitations. According to Uber, each ride lasts no longer than 15 minutes, which will make the rides available for more commuters.
It must also be noted that commuters must be over the age of 21 years and carrying a valid driver's license for motorcycle with gear and PAN card to ride the superbike. Riders must wear full length denims and covered shoes and follow all the traffic regulations under the Motor Vehicle Act such as speed limits, traffic rules and directions of the police.
The move follows a tug-of-war between Uber and the government, which has been resistant towards the concept of bike-taxis. The Karnataka government is mulling rules to allow bike taxis to be operated under new state regulations formed by the Road Transport Authority (RTA). The state government had seized few bike taxis for operating illegally in April.
But the demand for such a service appears to have changed the department's view of bike-taxis. "Since there is public demand, we thought we will frame the rules first. Let them submit their applications and get the necessary permissions from the RTA (Road Transport Authority); we will come out with the rules in the meantime. When they are ready, we will also be," Karnataka transport commissioner Ramegowda said last month.
Uber has been operating its bike-sharing service since March 4 as UberMOTO as a pilot. The service is offered to riders at a base fare of Rs. 15 and Rs. 3 per kilometer and Re. 1 per minute of the ride time.