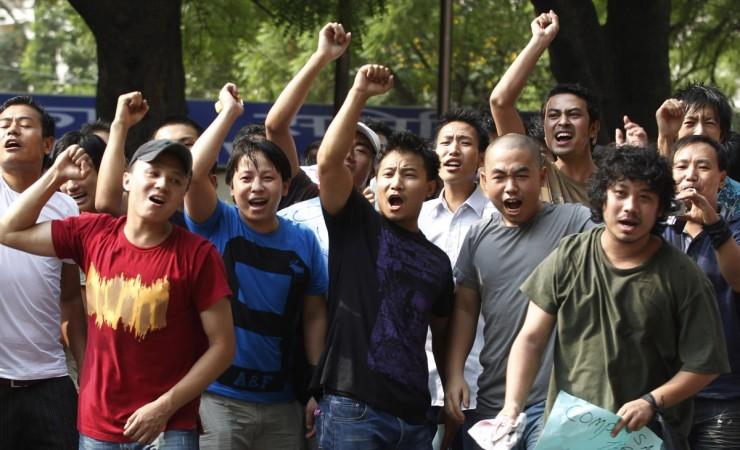 Two men accused of gang-raping a 17-year-old girl were paraded naked by a mob in Arunachal Pradesh on March 26. The incident took place in Yingkiong, the headquarters of Upper Siang district.
The accused men's hands were tied with a rope, which was being pulled by two women. The crowd took pictures and made videos of the accused while they were paraded through the Yingkiong market area.
In the video, it is seen that several women thrashed the duo before handing them over to the police.
"It seems the public did such a thing before handing the two to the police," Hindustan Times quoted John Neihlaia, deputy inspector general of police (central range) as saying. The cops are yet to nab two other men who also sexually assaulted the teenager.
Neihlaia said that on Sunday, March 25, four men— including the victim's boyfriend— had taken turns to rape the high school student near the under-construction Gandhi Bridge, reported PTI.
The crime took place at around 8:30 pm on Sunday.
"The girl was dropped back at her home at 2am on Monday. Her parents lodged a complaint with the police in the morning. Meanwhile, the victim's relatives and neighbors caught two of the accused and handed them over to the police," Neihlaia told HT.
All the accused men are in their twenties and are residents of the Pangkang village.
Similar incidents in North East
However, this is not the first time that people in the north east have taken up the matters in their own hands to teach a lesson to rapists.
Earlier in March, a man accused of raping a minor met similar fate in the Daporijo town in Upper Subansiri district of Arunachal Pradesh.
In mid-February, a 30-year-old rape and murder accused and his friend who helped him abduct the five-year-old victim were lynched by a mob in Tezu town of Arunachal Pradesh.
Around 1,000 people barged into the police station, where the accused had been kept and dragged them out. The police could do nothing as the mob had overpowered them as well.
In 2015, a mob broke into a Nagaland's Dimapur town jail and dragged out a rape accused. The mob paraded him naked on the streets and thrashed him brutally for raping a Naga girl.
They had planned to hang him in public at the Dimapur's Clock Tower, but he succumbed to his injuries mid-way.