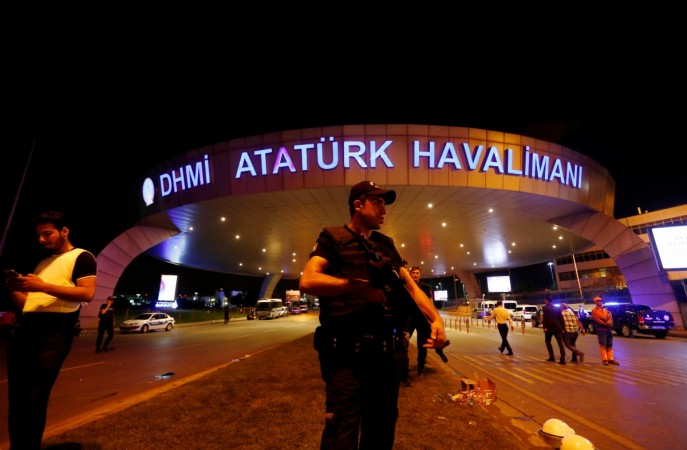 At least 41 people have been killed and around 230 were injured in terror attacks that took place at the Istanbul Ataturk Airport in Turkey late on Tuesday night. Three attackers are first said to have opened fire near the entrances to the airport. They blew themselves up when the police returned gunfire. At least 13 of the deceased are said to be foreigners.
In a statement after the Istanbul Ataturk Airport attack, Turkish Prime Minister Binali Yildirim said that the Islamic State group, also known as Isis, could have been behind the attack, as early signs point in that direction. He was quoted as saying by BBC that foreigners could be among the casualties. So far, there has been no news of any Indian being injured or being killed in the attacks.
All flights in and out of the airport were suspended following the attack, leaving thousands stranded in the airport lobbies or even on the tarmac in full planes that had just arrived or were ready for take-off.
Named after Mustafa Kemal Ataturk, the first president of the country and considered the founder of the Republic of Turkey, the airport is considered a soft target by extremists, one where they can inflict the most harm.
The BBC report quoted Turkish President Recep Tayyip Erdogan as saying: "The bombs that exploded in Istanbul today could have gone off at any airport in any city around the world."
Meanwhile, the Embassy of India in Turkey has put out advisories and contact numbers for Indians in the country who need assistance in the wake of the attack. Retweeted by Ministry of External Affairs official spokesperson Vikas Swarup, the first tweet reads: "Terror attack at Istanbul Atatrk Airpt. Entry/Exit pts shut. Indians req assist, pls call +90-530-5671095/8258037/4123625/ #IndianEmbassyTR [sic]."
A second tweet adds: "You may also contact First Secretary, Embassy of India, Ankara at 05303142203 @CGI_Istanbul [sic]."
Soon after the attacks, the hashtag #PrayForIstanbul began to make an appearance, as the attacks have taken place during Ramadan, a holy month for Muslims, during which they fast and pray.