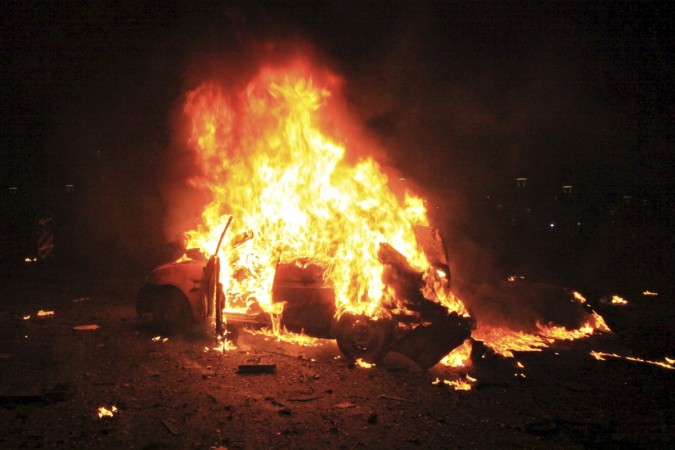 UPDATE 15:03 p.m. IST -- One of the Ankara bombers who struck the Turkish capital Sunday is believed to be a female militant with links to the PKK, according to reports. Following Sunday's bombing, Turkish warplanes hit Kurdish rebel bases in Iraq Monday.
UPDATE: 13:01 p.m. IST -- The death toll from the blast in Ankara has risen to 37, according to reports citing Turkey's health minister.
Original Story:
A car bomb ripped through a busy transport hub in Turkey's capital city of Ankara Sunday, killing 34 people and sending burning debris into the air, close to an area housing important ministries as well as a court. This was the second such terror attack in the Turkish capital in a month.
No group claimed responsibility for the latest bombing, though officials have reportedly suggested the Kurdistan Workers Party (PKK) may be behind the attack. The PKK-affiliated Kurdistan Freedom Hawks (TAK) had claimed responsibility for the Feb. 17 bombing that killed 29 people. The official announcement of the group involved is likely to come Monday.
"These attacks, which threaten our country's integrity and our nation's unity and solidarity, do not weaken our resolve in fighting terrorism but bolster our determination," President Tayyip Erdogan said in a statement, according to Reuters.
The U.S. Embassy had last week reportedly issued a warning of a possible terror attack targeting government buildings in Ankara. Turkey has been facing increasing terror attacks in recent months, with threats from the Islamic State group as well as the Kurdish militants.
Last October, over 100 people had been killed in twin bomb blasts in Ankara, and Turkey had blamed ISIS for the deadly suicide bombings.
World leaders including Russian President Vladimir Putin and British Prime Minister David Cameron condemned Sunday's bombing.
The United States also issued a statement. "The United States condemns in the strongest terms today's terrorist attack in Ankara, Turkey, which has taken innocent lives and injured scores.This horrific act is only the most recent of many terrorist attacks perpetrated against the Turkish people. The United States stands together with Turkey, a NATO Ally and valued partner, as we confront the scourge of terrorism." the White House National Security Council said in a statement.