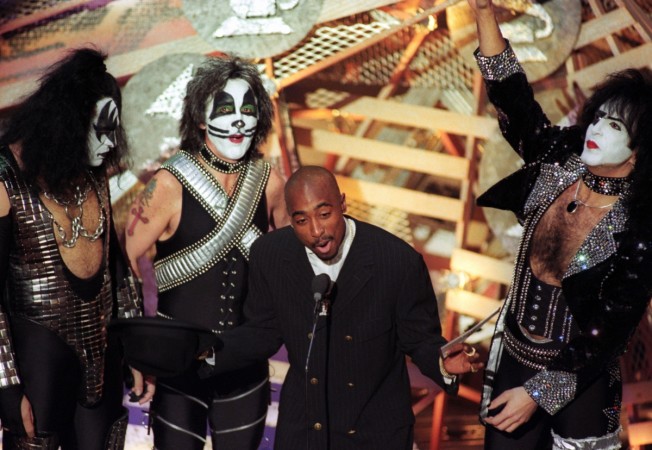 The gun, which was used to kill rapper Tupac Shakur (2Pac) on the night of September 7, 1996, was actually found in a citizen's backyard two years after his death. But the latest reports claim that the gun is missing.
The producers from A&E's docu-series "Who Killed Tupac?" made this bombshell claims after they got hold of information from a police document, TMZ reported. According to the tabloid, a .40 calibre Glock, which was used to kill the rapper, was found on May 30, 1998, by a citizen. It was handed over to the Compton Police Department. In 2000, the Glock along with 3,800 other confiscated firearms was transported to LASD.
Also Read: Tupac Shakur's death certificate: Never-seen-before document gives details about 2Pac's murder
However, the event took a dramatic turn in 2006 when Deputy T Brennan, who was working on the murder case of Biggie Smalls or Notorious B.I.G, checked the documents. Brennan found out that the address mentioned in the documents was at the home of a girlfriend of a Crip gang member, who had a rivalry with 2Pac. After ballistic testing, it was found out that the gun was used to kill Tupac.
Tupac was shot multiple times on the night of September 7 in Las Vegas, so it was expected that the gun would be transferred to the Las Vegas Police Department (LVPD). However, it was never handed over to the LVPD, where his murder still remains an unsolved mystery.
A federal prosecutor even said that the gun might alert "potential conspirators" so it should not be turned over to LVPD.
According to TMZ, the gun could have triggered fresh violence if it was revealed that Crip was tied to Tupac's murder. The producers even contacted LVPD, but some officers said they never got the gun, while others were clueless.
Recently, Tupac's death certificate was revealed and it states that the rapper was shot multiple times — twice in the chest, once in the arm, and once in the thigh. He died on September 13, 1996, at the University Medical Center in Las Vegas at around 4.03 pm local time.