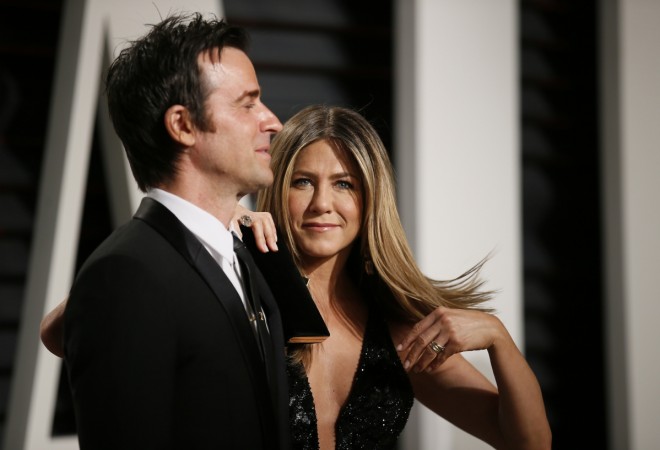 Jennifer Aniston and Justin Theroux are currently in the midst of their ongoing divorce proceedings. A recent report allegedly claimed that Brad Pitt's former wife cannot escape her writer-director husband Justin because of an ongoing lawsuit. The reports were soon debunked by Gossip Cop.
After divorcing Brad Pitt in 2005, Jennifer Aniston stayed single for a long time. During those years, she concentrated on her health and different movie projects. After staying single for quite some time, she met Justin Theroux and the couple started seeing each other in 2011 and got engaged on August 5, 2012. Justin and Jennifer got married on August 5, 2015, at their Bel-Air estate.
Jennifer and Justin celebrated their honeymoon in Bora Bora. During that time, they both invited their close friends and family members to celebrate alongside them. As per the reports, one of those guests was Die Hard movie producer Joel Silver and his personal assistant, Carmel Musgrove.
On August 19, 2015, the 28-year-old Carmel drowned in a lagoon. Two years after the sad incident, Carmel's family sued Silver and his assistant Martin Herold. The family argued that Martin provided their daughter with cocaine, which contributed to her death.
At the time of Carmel's death, both Jennifer Aniston and Justin Theroux had already left from Bora Bora, reports Gossip Cop.
A recent report from NW stats Friends TV series starlet is upset because the lawsuit is still not settled.
"Jen desperately wants this tragic situation resolved as soon as possible... The longer this case goes on, the longer she' reminded of her failed relationship with Justin, given that it all happened on their honeymoon," said an alleged insider.
In addition to this, the insider even claimed that even though Jennifer and Justin are in the middle of their divorce, they may have to face "uncomfortable reunion" if they will be called as a witness.
"They may have to face a deposition, which would mean they'd be stuck in a stuffy attorney's office together," adds the insider. "But that's the last thing either of them wants."
Gossip Cop debunked the absurd claims and stated that the former couple is not a witness in the death of Carmel Musgrove. And even if they have to come and give testimony, it is highly unlikely that Jen and Justin would have to reunite for it.