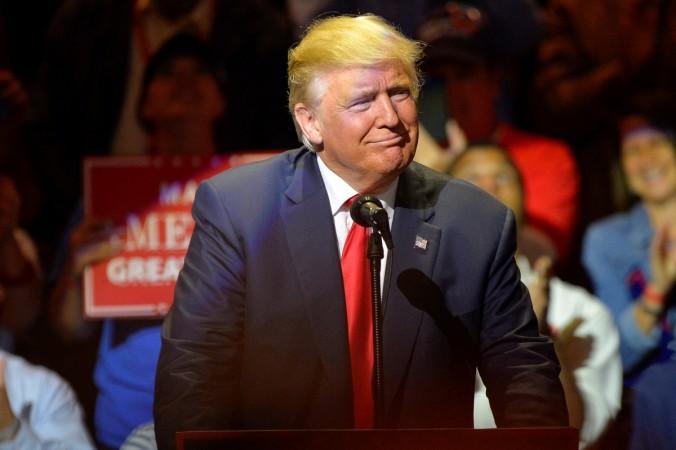 Republican presidential nominee Donald Trump has intensified his attacks on his Democratic rival Hillary Clinton after it was revealed that the Federal Bureau of Investigation has secured a warrant to examine the newly-discovered emails related to Clinton's private server.
The warrant will allow the FBI to probe the emails to see if they are relevant to its investigation of the private email server used for government work by Clinton when she served as secretary of state from 2009 to 2013.
The latest emails were discovered as part of a separate probe involving former Democratic US representative Anthony Weiner, the estranged husband of Clinton's aide Huma Abedin.
Weiner is the target of an FBI investigation into illicit text messages he is alleged to have sent to a 15-year-old girl in North Carolina. FBI agents working on the Weiner investigation saw material on a laptop belonging to Weiner that led them to believe it might be relevant to the investigation of Clinton's email practices but required a warrant for their probe.
Trump finds ammo
"When the outcome is fixed, when the system is rigged, people lose hope. They stop dreaming. They stop trying, Hillary Clinton's corruption is corrosive to the soul of our nation and it must be stopped," Trump was quoted as saying during a public address in Phoenix.
Trump's comments during his rallies in Phoenix and in Golden, Colorado, declared Clinton "guilty". He added that she is allegorical to the type of corruption that is a "grave threat to our democracy".
His reiteration of the elections being rigged is in line with his earlier comments during the last presidential debate and his subsequent rallies where he said that he will only accept the results of the election if he wins.
But the most recent allegations of the elections being rigged or fixed, made by Trump, addressed reports that suggested that some democrats do not want FBI Director James Comey to reveal his new review. Trump asserted that the justice department, populated by appointees of Democratic President Barack Obama, is trying to help Clinton.
Clinton's campaign chairman John Podesta , campaign manager Robby Mook, US Senate Democratic leader Harry Reid and others have hit out at Comey, accusing him of trying to influence the election.
Clinton campaign worried?
The news regarding the e-mail discovery disturbed the financial markets' prediction of a Clinton victory in the election as the US dollar slipped against major currencies in early Asian trading on Monday.
Clinton allies are also concerned that a prolonged controversy could extend beyond the November 8 election and affect her transition to power if she is elected to the White House.
Speaking at a Florida rally on Saturday, Clinton said that Comey's letter was "deeply troubling," but skirted around the issue directly on Sunday and asked voters vaguely to overcome the "distraction".
"There's a lot of noise and distraction but it really comes down to the kind of future we want and who can get us there," Clinton was quoted as saying to a packed gay nightclub in Wilton Manors, Florida, by Reuters. "We don't want a president who would appoint Supreme Court justices to overturn marriage equality," she said, hitting out at Trump.
It is uncertain to say how much leverage Trump can gather through the latest developments as Clinton has been enjoying a lead in early voting, and most analyses of the polls show him facing a defeat, even a landslide one, if the elections were to be held today.