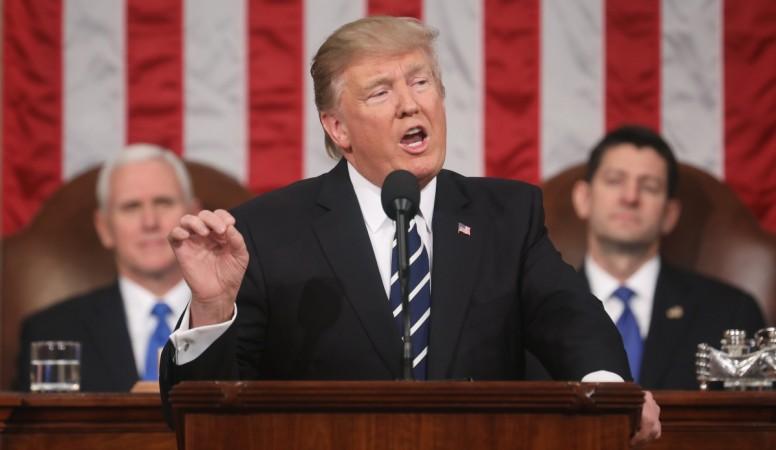 United States President Donald Trump on Tuesday said that he was open to immigration reform, in a marked shift from his earlier xenophobic rhetoric on illegal immigrants. Trump seemed to offer a more restrained stance during his Congressional speech than what was seen during his first month in the White House.
Democrats invite immigrants as their guests to Donald Trump's Congressional speech
In a televised speech to the Congress, Trump stressed his desire to focus on problems at home by boosting the US economy with tax reform, a $1 trillion infrastructure effort and an overhaul of Obamacare, former President Barack Obama's signature healthcare law.
After Trump's chaotic first month of presidency, during which time he faced severe criticism for his executive order of a temporary ban on refugees and people from seven Muslim-majority countries, the president appeared to look for a reset to move past the period marked by his inefficacy to effectively govern the country.
Trump, in his speech, seemed to offer a more measured tone and called for national unity. Democratic Senator Tom Carper said that "the person who wrote this speech must not have written the inaugural address. That one was "dark" and this one was more uplifting," Reuters reported.
The president also said that a broad immigration reform plan could be put in place if both sides of the parties in Congress were willing to compromise. He also added that the US immigration should be based on a merit-based system than the relying on lower-skilled immigrants. Trump said that such a reform would help the struggling American families to enter the middle class by raising wages.
"I believe that real and positive immigration reform is possible, as long as we focus on the following goals: to improve jobs and wages for Americans, to strengthen our nation's security, and to restore respect for our laws," Trump said.
Trump also mentioned NATO and said that America will support the alliance provided the member countries paid more for their defence. He also talked at length about a big defence buildup, but added, "We want harmony and stability, not war and conflict."
"America is willing to find new friends, and to forge new partnerships, where shared interests align," Trump said.