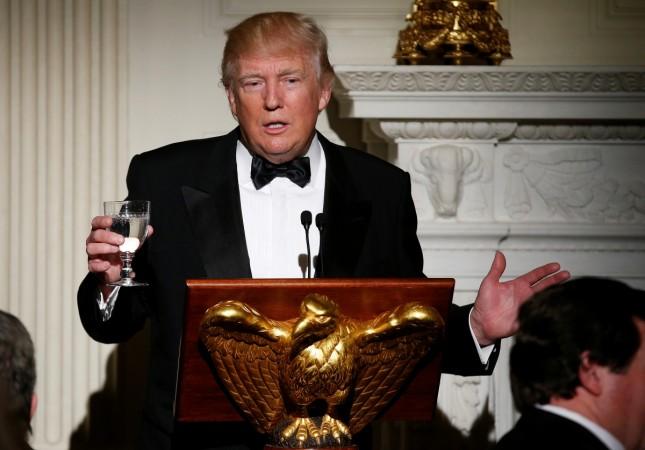 United States President Donald Trump is scheduled to deliver a State of the Union-style speech in Congress on Tuesday. This will be Trump's first nationally-televised address to a joint session of Congress in the US Capitol's House of chamber.
Read: Donald Trump to seek 'historic' $54 billion increase in military budget spending
The speech could offer a new chance for Trump to mend his ways as he is set to address the members of both the parties. A recent poll suggested that Trump currently has the lowest favourability ratings for any new president at 44 percent and he is still assembling his team which is already embroiled in allegations of ties with Russia.
Trump, in his high-stakes speech, is expected to outline his priorities towards an economic nationalism charting out his "America first" vision.
Here are give things to watch out for in Donald Trump's speech today:
Defence Budget
Trump has said that he will outline his first budget proposal to Congress today with defence budget being the prime highlight. Trump is set to seek a "historic" hike of $54 billion to boost Defence Department spending. A White House budget official on Monday said that Trump will look to boost Pentagon spending by $54 billion in his first budget proposal in the next fiscal year and cut the same amount from other non-defence spending, which also includes a significant decrease in foreign aid.
Trump will have to explain how he plans to pay for the domestic programs, infrastructure renewal, a border wall and immigration enforcement after demanding such a surge in military budget spending.
Health Care
Trump is also expected to denounce the Affordable Care Act, popularly known as Obamacare, in his speech. Although he and his fellow Republicans have always campaigned for repealing and replacing the health care act, Trump's statement on Monday about healthcare being "an unbelievably complex subject" will not help his case. Trump administration has not come up with a consensual plan to replace Obamacare yet.
Immigration
Trump's recent executive orders barring refugees and people from seven Muslim-majority countries from entering the US, drew heavy criticism from all over the world, especially from the home country. His controversial travel ban has been stayed by a federal court after the Washington state filed a lawsuit asking to revoke the ban. The Trump administration had announced that they are planning to come up with a revised ban which takes the court's concerns in perspective. Trump will shed light on how he hopes to circumvent the court's objections to the ban, some aspects of which are considered unconstitutional.
Tax Reforms/ Tax Cuts
Trump had talked about getting rid of tax deductions during his presidential campaign. However, he has not said much about the issue of late. Trump's plan to revive the American economy includes reduction in tax rates, ramping up infra projects and deregulate some of the sectors as part of an overall push to create 25 million new jobs in the next decade.
"With the faster growth from the Trump Plan, the economy will create 25 million new jobs over the next decade. For each 1 percent in added GDP growth, the economy adds 1.2 million jobs. Increasing growth by 1.5 percent would result in 18 million jobs (1.5 times 1.2 million times 10 years) above the projected current law job figures of 7 million, producing a total of 25 million new jobs for the American economy," according to a fact-sheet posted on Trump's website.
Trump will need to elaborate on what his administration has in store, whether he will stick to his campaign promises of getting rid of deductions and repeat the pledge of his new Treasury Secretary Steve Mnuchin, that the rich will not get an "absolute tax cut" or if he will go the other way.