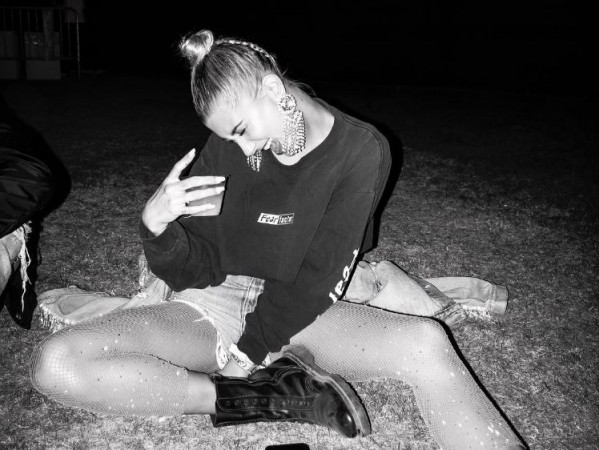 Hailey Baldwin looked pretty in a casual T-shirt and white trainers, but she also suffered an awkward wardrobe malfunction when she was heading back home. The 20-year-old model was on the way back after having a fun time with girlfriend Kendall Jenner at Coachella 2017.
The daughter of actor Stephen Baldwin became a victim of fashion fail when she unintentionally flashed her derriere in just black over-sized T-shirt when she tried to fix her hair. This happened when she stopped at the gas station on her way from Coachella to Los Angeles.
Also Read: Amber Rose bares it all in a risky fishnet bodysuit at Coachella 2017
Baldwin kept it casual and showed off her toned legs in T-shirt and white Adidas Stan Smith style trainers. She looked stunning with a messy topknot and hoop earrings.
Apart from having fun with her girlfriends, Baldwin added another tattoo at Coachella. Baldwin, who is the queen of tiny tattoos, got her 17th tattoo and this time it is just two tiny arrows in the upward direction. She got the tattoo on her right pinky finger.
Meanwhile, talking about fashion and glamour industry, she admitted that people tend to get lonely, as most of the time they spend time away from family.
"It's not all that it seems to people on the outside. Sometimes I wish people could understand - because everyone thinks 'oh you have money, you have this, you have that' - but for me, the things that are more important are my family," she told Glamour magazine in an interview last year.
"I'm lucky that I have my family, I'm lucky that my parents are still together. Those are the things that I cherish. Fame is not all that it's cracked up to be. It's a lot for someone my age to have to deal with," she added.