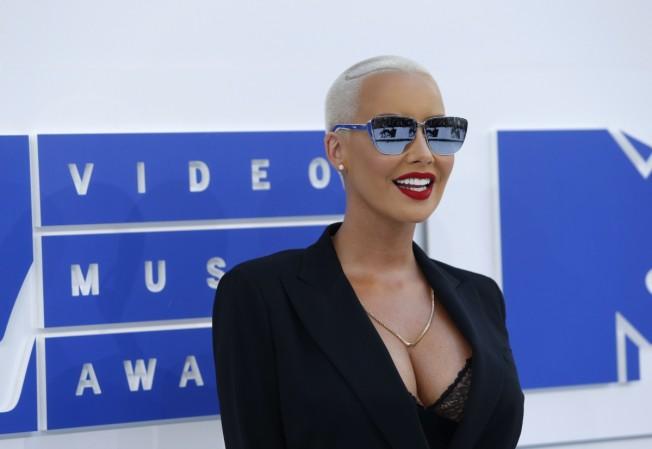 Coachella 2017 celebrity outfits have changed the meaning of dressing out of your comfort zone as many chose to step out in some of the craziest, wackiest and shocking attire. Competing on who will show more skin and who will drop down more wardrobe essentials, Amber Rose turned out to be the clear winner.
Also Read: Rihanna shines like diamond in a sheer bodysuit
Redefined fashion this weekend, Rose walked out sporting some memorable and bizarre outfits. Showing off her sexy curves, Rose sported a number of see-through bodysuits that not only gave fans a good look inside her dress but also hotted up things at the festival.
While a few were quirky and out of the box, there was one outfit that gave it all. Marking an end to Coachella's first weekend, Rose opted to wear a netted see-through outfit to ditch the bra, showing off her bosom through the black sheer dress. The star shared a picture showing off her outfit with the captioned: Hoechella.
The rapper clearly had a great time during the first weekend of Coachella as she was seen hanging out with different stars over the weekend. But onlookers were not only ogling over her assets but also were curious about her companions at the fest.
Rumoured to be dating the NFL superstar, Rose was spotted with having a fun time with Odell Beckham Jr. After splitting from her bae Val Chmerkovskiy six months ago, the actress and model seems to have found love in the sports star. The two were not only getting cozy with each other, they were also spotted riding a scooter together on the second day as the NFL star was finding excuses to hug her.
It was reported that the duo were at Coachella since the festival kicked off as they were spotted partying on Friday night together.
The second weekend of Coachella 2017 will take place from April 21 to 23 and we cannot wait to see how wacky fashion could get.