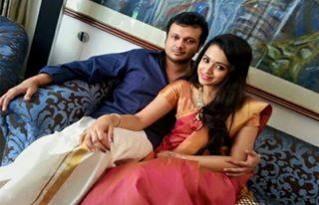 Popular actress Trisha Krishnan has reportedly planned to arrange a special feast for her colleagues from the south Indian film industry, post her engagement. Her guest list includes the likes of Ajith, Vijay, Pawan Kalyan, Mahesh Babu, Balakrishna and many others.
Trisha has already announced on Twitter about her impending engagement to boyfriend Varun Manian, a Chennai-based Businessman. On 7 January, the actress tweeted, "To my fans n friends from d media, I will be getting engaged to Varun on the 23 of Jan in a very private ceremony between our families."
Having made her acting debut with Tamil film "Jodi" in 1999, Trisha has starred in over 50 Tamil, Telugu, Hindi and Kannada movies. In her career spanning one-and-a-half decade, she has worked with all leading actors, directors and producers in Tamil and Telugu film industries. She has maintained very good relationship with everybody in the industry.
The buzz in the media is that Trisha's engagement is going to be a private affair, but the actress has invited Ajith, Vijay, Pawan Kalyan, Mahesh Babu, Balakrishna and many other leading Tollywood and Kollywood stars for this special party, which will be held on 24 January, a day after her engagement.
"Trisha, a day after her engagement, i.e. on 24th will be thanking all those who have supported her with a hearty and scrumptous meal. The invitations are in both Trisha and Varun's name," reports leading web-portal Sakshi Post.
On 7 January, Trisha had requested the media to refrain from spreading speculations about her wedding date. She had tweeted, "Pls don't speculate about my wedding date as we have not fixed it as yet. And as always you will hear it from me first when we do."
The actress is likely to make an official announcement about the 'big day' and other details related to her wedding.