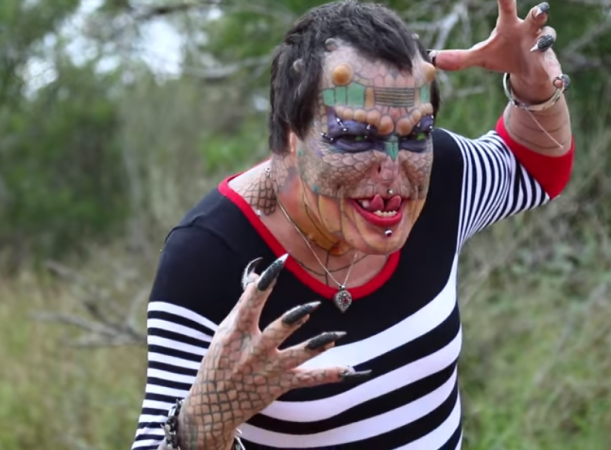 With a forked tongue, tattooed scales and eight horns on her head -- that cost her almost $60,000, Eva Tiamat Medusa is now the self-proclaimed 'most modified transsexual in the world'. All of this in the pursuit to become a dragon!
Back in 1997, the now 56-year-old from Bruni, Texas, was a man named Richard Hernandez – appointed as the vice president for one of America's leading banks, as she shared with The Wizard of the Odd TV. But things changed after an HIV diagnosis, which had sent her life in a completely different direction – something that made her vow 'not to die a human'.
"As much awesomeness and goodness there is in humans, compared to other species they are the most destructive and hateful," she said. "I decided at that time, that it was time for a change in my life, so I wanted to look like something that wasn't human."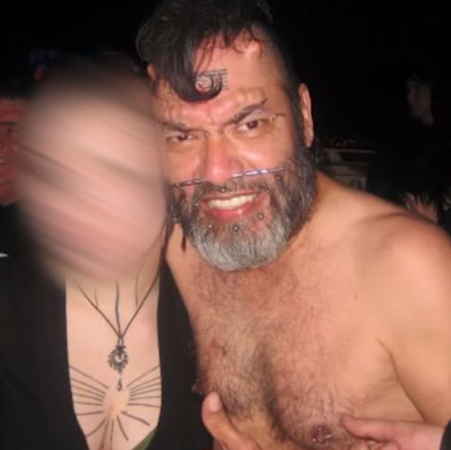 And that's when Eva chose to leave the corporate and human life behind, in order to morph into the reptilian form she's always wanted to be.
It's her own belief that after her parents abandoned her when she was just five, she was 'born again.' "I have two mothers," she said. "One is my original birth mother and my second birth is to my reptilian parents, which are the rattlesnakes."
Her transformation had started with a series of scale tattoos. It soon evolved to reshaping her nose, getting her ears removed and even staining the whites of her eyes into permanently green.
That had added up to a whopping $60,000. But Eva has another $40,000 planned, as she shared, opening up about her 'trans-speciesism' – with the hope that she'd be able to break down the boundaries and stigma for others like her.
Eva told The Wizard of Odd TV: "For me, my transformation is the greatest journey of my life. There are profound reasons and deep meanings about my transformation and why I'm doing it. I hope that my story will help other people – not only those who have gone through hard times, but also people who have lost hope. I myself know what it's like to be at that point."
Speaking of the other bodily modifications she went through to morph into her 'dragon form', Eva said that most of her teeth has been removed, her tongue got bifurcated and her whole face is tattooed too, along with some scarification and branding on her chest and wrist.
"I would like for there to be an open dialogue about the world of body modification and understand what it was like to live as a gay-man for 53-years and now as a transsexual woman," she said. "There's a lot of misunderstanding about what it means to be transsexual and then further than that – something that I'm introducing – the idea of trans-speciesism."
Eva doesn't consider herself just human anymore. "I'm human and reptilian," she said, adding that her morphing has a long way to go.
"My greatest desire in life is to continue my body modification until my metamorphosis is complete. This is what drives me – this is the reason why I get up every day and live."