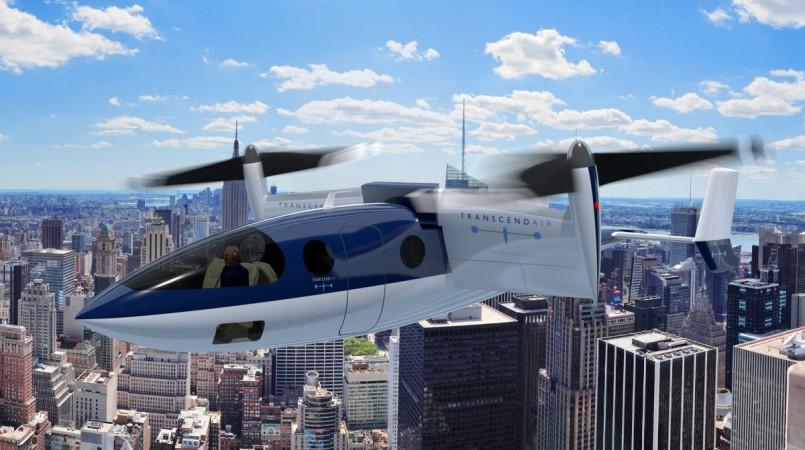 Transcend Air, a US-based aviation company is now building a tilt-rotor aircraft that they believe can make travelling domestically faster and a lot cheaper than flying.
Tilt-rotor is a vertical take-off and landing (VTOL) technology that has a vehicle take off like a helicopter from a helipad and land on one, but while in flight, it moves and behaves like an aeroplane. It is called tilt-rotor because the rotors are horizontal when taking off and landing, but turn vertical when flying forward.
The US Air Force (USAF) already have a tilt-rotor vehicle called the V-22Osprey built by Bell and Boeing which was fielded in 2009. Transcend Air want to make a smaller, more comfortable, civilian version of it to use between cities, carrying about four to five passengers at a time.
Transcend wants to start service by 2024, and they claim that ticket prices are likely to be cheaper than traditional airline prices. Tickets are priced between $283 and $325. The company's site has three routes in mind as of now- New York City to Boston, which they say will take about 36 minutes, Los Angeles to San Francisco 55 minutes and Montreal to Toronto at 60 minutes. The aircraft is claimed to have a cruising speed of over 650 kmh, which is much faster than the Osprey which can reach a maximum of 565 kmh.
The company is also selling their aircraft at a price of about $3.5m, for those interested in buying their own VTOL aircraft. Transcend claims that their air taxi service will be a lot more sustainable and support the increasing need for air travel without having to build new airports by making use of existing infrastructure. After service starts, the company has identified 46 city centre pairs in the US where they claim that their service can be faster and less expensive than existing platforms.