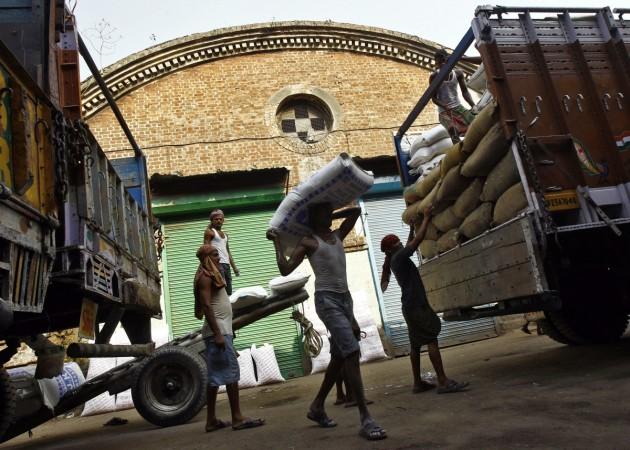 A traders' strike action to protest against the proposed extension from Monday (Dec 31) of trading hours in commodities exchanges has hit the country's agricultural wholesale markets.
The strike action paralyzed most markets except a few in Rajasthan and Gujarat.
The traders are also targeting a rise in the risk management fee of the National Commodity & Derivatives Exchange (NCDEX).
More wholesale markets are joining the protest as the extended trading hours nears, media reports say.
Both Multi Commodity Exchange (MCX) and NCDEX have announced an increase in the trading hours. They have informed the Securities and Exchange Board of India (Sebi) that trading will be from 9 am to 6 pm from Monday, instead of the current 10 am to 5 pm.
However, globally referential agri and non-agri commodities would continue to stick to the timings of 9 am to 9 pm and 9 am to 11:30 pm /11:55 pm respectively.
"Extended trading time is a big worry for traders," the Business Standard website quoted Babulal Gupta, president, Rajasthan Khadya Padarth Vyapar Sangh, a Jaipur-based agricultural commodities' trade body, as saying. "Wholesale markets already work for long hours since they open early in the morning. Trading hours until 5 pm was okay with traders, as they would have still got time to plan their next day's trade. But this extension will not let them plan business for the next day."
The traders have been up in arms against the risk management fee at the National commodity Clearing Ltd (NCCL), the clearing corporation arm of NCDEX. The NCCL, by a circular of December 17, revised its risk management fee to Rs 10 per Rs 10 lakh of standing positions (open interest) per day with effect from February 1, 2019. Currently, the NCCL charges Rs 40 per Rs 10 lakh worth of business generated on NCDEX, irrespective of the duration that the traders hold on to the position.
Under the new rates, a trader would have to cough up Rs300 for every Rs10 lakhs of turnover as against Rs 10 now.
Reports say the daily turnover on NCDEX has declined to around Rs17 billion from Rs22 billion.