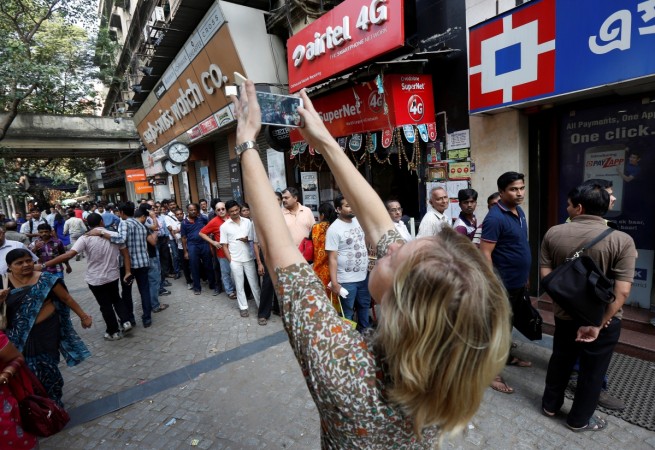 Indian tourists travelling domestically and overseas and foreign tourists travelling in India have been seriously affected by Prime Minister Narendra Modi's announcement on November 8 to immediately demonetise higher denomination notes of Rs 500 and Rs 1000 with the stated aim of fighting tax evasion, corruption and financing of terrorism.
Indian domestic tourists stranded
In various regions spread across India, many Indian tourists who rely on cash while travelling domestically are reportedly stranded and suffering from long queues and due to non-functioning ATMs causing a serious scarcity of cash.
Nearly 6,000 pilgrims originating from various areas such as Karnataka, Maharshtra and Gujarat are stranded at the centuries-old Jain shrine of Parasnath in Giridih located in Bihar, according to the Times of India.
Many also claim they are facing hardships while buying essentials such as food and water from restaurants and general stores as debit and credit cards are not accepted universally.
Moreover, it also is due to the sparse frequency of ATMs and debit card machines in several hill stations and remote tourist destinations located in areas such as Uttrakhand and Himachal Pradesh. As a result, hotels and resorts in several tourist destinations such as Corbett Tiger Reserve, Mussoorie and Nainital are reporting a surge in cancellations of booking over the last couple of days.
Ramnagar, a popular hub for wildlife and religious tourism, is experiencing at least 50% booking cancellations, according to tour operators. In response, hoteliers are experimenting with initiatives such as "visit now, pay later", but are unsure if they will work.
Indians travelling to Gulf countries stranded
Indians who have recently travelled to the Gulf countries like Saudi Arabia, Kuwait and the United Arab Emirates are suffering as they are unable to exchange their currency and meet their daily expenses. Travellers who had gone to Saudi Arabia to perform 'umrah' (lesser pilgrimage made by Muslims to Mecca, which may be performed at any time of the year) have been reportedly worst affected by the demonetisation as sources suggest that they are being turned away by Saudi banks.
Their only recourse is to go to some other agencies that are accepting the scrapped notes and exchanging them for Riyals but are deducting as high as 30% to 40% and even 50% for their services.
Even Saudi nationals in money exchange business have put up boards reading 'No Exchange of Indian Currency', Mohammad Faiz Anwar, a native of Kanpur, was quoted saying to the Times of India. Indian migrants working in Dubai have voiced similar conditions in Dubai where banks have stopped exchanging Indian currency.
Foreign travellers stranded in India
Hordes of foreign tourists in popular destinations such as Goa were ill prepared for Modi's shocking announcement as they don't possess bank accounts in India and were thus left holding worthless paper in an alien land.
Reports also suggest that foreign travellers are being coaxed into buying gifts and souvenirs in return for lower denomination notes and in some cases customers are being forced to make purchases of equivalent values.
But even worse are cases where they are being cheated by conartists who are offering to "change" the notes at a commission or premium. Foreign tourists are facing difficulties in paying for food and accommodation but are being helped by some tourism operators who are disregarding Modi and RBI'guidelines to be more cooperative and accommodating.
For tourists affected in areas such Varanasi and Agra, Uttar Pradesh Chief Minister Akhilesh Yadav has directed his chief secretary to immediately facilitate exchange of old currency notes for the new legal tender.
Foreign tourists on medical tourism hurt by move
In lieu of a serious cash crunch, foreign tourists accompanying their ill friends and family who are seeking medical treatment have requested doctors to postpone their surgeries and treatment.
Strapped on a fixed and tight budget, usually based in cash, those coming to seek medical treatments are cancelling their trips while adding that they will only be willing to reconsider coming back if the situation gets resolved.
"We got the currency converted at the airport only. It has come as a shock on Tuesday that Rs 500 and Rs 1,000 notes are no longer accepted. My husband has a debit card, but it can't be used all the time like paying auto drivers and street vendors," Aziz Azad, a native from Afghanistan who cancelled her daughter's brain surgery at a private hospital, was quoted saying.