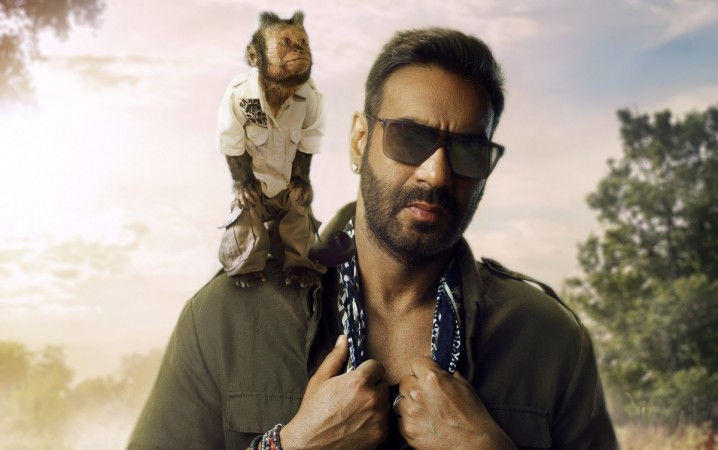 Total Dhamaal has finally released in theatres and according to early reviews, it looks like the Indra Kumar directorial has managed to tickle the funny bone of the audience.
With Total Dhamaal, the makers have done a casting coup with the hit duo Anil Kapoor and Madhuri Dixit joining Ajay Devgn in the film. Total Dhamaal will also see the return of the comic gang of Riteish Deshmukh, Arshad Warsi and Javed Jaffrey along with Boman Irani.
Presented by Fox Star Studios, Total Dhamaal is produced by Ajay Devgn Films, Ashok Thakeria, Markand Adhikari, Anand Pandit and Fox Star Studios.
The movie has been released in UAE one day prior to its release in India and it has witnessed tremendous occupancy for its opening shows. Take a look.
#TotalDhamaalReview
Everyone in the theatre were laughing hard
And enjoying each n very moment of the film
Most importantly every actor has a balanced n significant role in the film
Go guys watch #TotalDhamaal
Full paisa vasool film hai

— ❤TotalDhamaal22febRoopLuvs❤Madhuri❤ (@RoopluvsMadhuri) February 22, 2019
#TotalDhamaal from #UAE. Sometimes, a good laugh is all you need to make your day. Try not to miss this one, it pledges hilarity in abundance. — सुनंदा (@sunanda200790) February 22, 2019
#TotalDhamaal is full on comedy movie. Just can't hold my excitement
It is totally Worth it @Riteishd and his comedy is on its peak

— Atish Lohar (@i_atishlohar) February 22, 2019
I watched #TotalDhamaal and it's hilarious. Hash Hash ke pet me dard ho gaya. It's a blockbuster. love u Ajay sir — Gaurav Kumar Mishra (@imgauravkmishra) February 22, 2019
#TotalDhamaal This is best family movie for the weekend. This movie really laugh you very much .and acting of all the actors is very goo

— शिवानी पाटिल (@ShivaniPatill) February 22, 2019
Usually I prefer not to watch a Madhuri Dixit film 1st Day. Spend half a day reading reviews, RTing the selective ones,making noise on opening day. But looks like #TotalDhamaal doesn't need any !! Time to get another ticket for tomorrow too !!

— Avinash Jha (@____Avinash____) February 21, 2019
First Review #TotalDhamaal from #UAE. Sometimes, a good laugh is all you need to make your day. Try not to miss this one, it pledges hilarity in abundance. Carrying a positive vibe & a high degree of expectation, the film is tipped to be 'hot' amongst viewers. pic.twitter.com/dPyq5a5xfa — Umair Sandhu (@UmairFilms) February 21, 2019
#Totaldhamaal is an awesome film .Being a citizen of UAE i watch total dhamaal tonight and i must say it is a mind blowing film @madhuridixit once again proved that she is the real queen of bollywood @koimoi @taran_adarsh @spotboye @twitterindia @bollywoodlife @pinkvilla

— mampi Dasgupta (@dasgupta_mampi) February 21, 2019
#TotalDhamaal FDFS in UAE and around 65-70% occupancy!! Superb — SOHAIL KHAN (@ItsSohailKhan) February 21, 2019
It's the first show of film #TotalDhamaal in Dubai and I am really surprised to see that it's a houseful. Means film will get very good opening in India tomorrow. This Film is releasing in 3700 screens means day1 business can be 18-20Cr!

— KRK (@kamaalrkhan) February 21, 2019